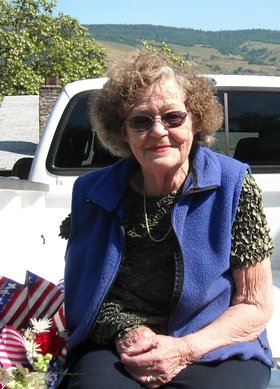 Rowena Belle Gibbons
July 22, 1934 - June 25, 2014
Rowena Belle Manion Gibbons passed away June 25, 2014, from complications of COPD at Legacy Mt. Hood Medical Center in Gresham, Ore. She was born July 22, 1934, the sixth child out of 12, to Thomas H. Manion and Neva Klinger Manion in McMurray, Skagit County, Wash. Rowena attended the local schools.
In 1959 she met and married Tommy John Gibbons, a career Navy man stationed at nearby Whidbey Island Naval Air Station. They married on July 22, 1959. "Roe" loved being a Navy wife and happily moved with Tommy to naval air bases around the country. They set up housekeeping in Munford, Tenn., while he was an instructor in aviation elections and came back to the Northwest where he was once again stationed at Whidbey until his retirement in 1966.
With his retirement came another move, this one to Oregon where Tom went to work for Tektronix and Roe took care of her home and family, which included TJ Jr., born in 1962, and Michael, in 1965. They bought a home in Hillsboro, Ore., in 1972, where Roe planted huge gardens, tended her flowers, and hosted barbecues in the spacious and shady backyard.
Rowena looked forward to camping trips during hunting season in the Mosier hills and on fishing trips to the North Umpqua in southern Oregon. When they lived in Tennessee, she won a bass fishing contest, making the largest catch of the day. Her prize was her fish taken care of by a taxidermist and it graced one of the walls of their home for several years before taking up residence in the garage.
The couple took an interest in square dancing and belonged to several clubs in the Beaverton-Hillsboro area and made many friends through that activity. Rowena also liked to knit, crochet and read mystery books.
Rowena was preceded in death by her parents; brothers Tommy and Rick; and sisters Eleanor, Laura, Ruby and Bertha.
She is survived by her son TJ Gibbons and his wife, Heather, of Tigard, Ore., and son Michael of Hillsboro; brothers Johnnie, of Kingman, Ariz., and Gary (Janet) and Jerry (Joyce) Manion, of Mt. Vernon, Wash., and her sisters Alice (Roy) Chapman, of Coupeville, Wash., and Sandy Manion, of Mt. Vernon, Wash.
Also surviving are her granddaughter, Ciara, of Beaverton, Ore., her stepsons Tom Reed Gibbons, his wife Patti, and daughter, Monica, of Hood River, and Patrick Gibbons and his son, Christopher, of Shreveport, La.; many nieces and nephews and by brother-in-law and sister-in-law, Ed and Glenna McCargar, of Mosier, and brother-in-law Lee Gibbons and his wife, Christine, of Jakarta, Indonesia.
Services for Rowena will be held Sept. 6 at 11 a.m. at the Mosier Cemetery.
The family would like to give special thanks to her primary care physician, Dr. Marie Dubesa, and her medical assistant, Jason, for the excellent care they provided and the upbeat attitude they had with her; to all of the personnel at Legacy Mt. Hood Medical Center who were sensitive to her needs and ours; to the terrific staff at Cascadia Village where Rowena had lived for the last 20 months; and a very heartfelt thank you to her niece, Kyra Gibbons Sczygelski, who had "Aunt Roe's" best interests at heart. You all helped to make her last months lighter and brighter.
So quiet, but feisty Roe is gone from our family circle, but has stepped from a good place to a better one and is once again surrounded by loving family.
Arrangements are under the direction of Anderson's Tribute Center (Funerals, Receptions, Cremations), 1401 Belmont Ave., Hood River, OR 97031; 541-386-1000. Please visit andersonstributecenter.com to leave a note of condolence for family.

Condolences are being received online.