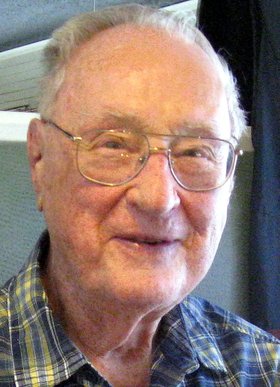 Claude "Bert" Bernard Andersen
October 17, 1916 - July 17, 2014
Claude Bernard "Bert" Andersen, 97, passed away of natural causes July 17, 2014, in Hood River, Ore. Claude was born in Rosalie, Neb., on Oct. 17, 1916, to Frederick and Nicolene (Petersen) Andersen.
Raised on farms in Nebraska and Wyoming, Claude moved with his family in 1933 to Yuba City, Calif., where he lived most of his life, met his wife Leorna Buckley, and together they built a home and raised a family. Claude and Leorna moved to Oregon in 2007 to live closer to family.
Shortly after the attack on Pearl Harbor, Claude enlisted in the U.S. Navy, serving as a gunner's mate on the battleship USS Idaho and the destroyer USS Ringgold. He saw combat throughout the Pacific, including the Battle of Tarawa.
After World War II, Claude was a carpenter who worked on a range of construction projects from private homes to schools, banks, and other commercial buildings, retiring from Lamon Construction Company in 1975.
Claude was very involved in the hobby of restoring and displaying antique gas engines, the types he worked with on the farms of his youth. He was a longtime member of the Early Day Gas Engine and Tractor Association, Branch 13, and regularly showed his engines at "Gas-Ups" and fairs including the California State Fair and a solo exhibit at the Yuba-Sutter Fair. His 3½ to 1 scale drag saw (modeled after his 4 HP Ottawa drag saw) was featured in the national publication Gas Engine Magazine. Claude was an inspiration to many gas engine restorers.
Claude's great joy was family activities — almost every week they would go camping, water skiing, hiking, fishing, hunting or sightseeing, both locally and across the United States. Claude played acoustic guitar and was an avid photographer with his own darkroom. He built several boats, including a canoe, fishing skiffs, and a ski runabout.
Right up to the last hours of his life, Claude followed the younger generation's activities and adventures through visits, phone calls, emails and Facebook.
Claude is survived by his wife of 68 years, Leorna Andersen, of Hood River; his daughter, Janet (Randy) Stegemeyer, of Port Orchard, Wash.; his son, Howard (Conni) Andersen, of Underwood, Wash.; his granddaughter, Laura (Sommer) Andersen, of Camas, Wash.; his grandson, Larry (Stephanie) Andersen, of Fremont, Calif.; seven great-grandchildren and 10 nieces and nephews.
He was preceded in death by his parents; brother Edward Andersen; sisters Evelyn Yank, Inez Pease and Marjorie Silta; granddaughters Jennifer Ellis and Cherilyn Andersen; and a niece and nephew.
Two farewell services are scheduled: Saturday, July 26, at 11 a.m. at Anderson's Tribute Center, 1401 Belmont Ave., Hood River, OR 97031 (541-386-1000) and Saturday, Aug. 9, at 11 a.m., graveside at Sutter Cemetery, 7200 Butte Ave., Sutter, CA 95982 (530-755-0346).