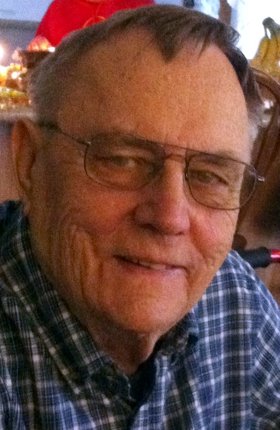 Fred Wayne Jones
April 24, 1930 - July 19, 2014
Fred Wayne Jones passed away July 19, 2014, from pancreatic cancer. Wayne was born April 24, 1930, in Fairland, Okla., to Fred and Margaret Jones. The family moved from Oklahoma to Hood River, Ore., when Wayne was about 11 years old.
Wayne served in the U.S. Navy from 1947-50. He married Joyce Evelyn Porter on April 4, 1949, in San Diego, Calif. Upon his discharge from the Navy he returned to Hood River.
Wayne was the owner of the Heights Richfield, Highway Mobil, downtown Mobil and Uptown Texaco stations. He was a member of the Elks Lodge and Jaycees.
In 1971, as their children were leaving home, Wayne and Joyce left Hood River and moved to the Tacoma, Wash., area. In 1974, Wayne founded S&W Construction with his brother Sid.
Wayne was loved by all who knew him; his brothers and sisters, his children, grandchildren, great-grandchildren, friends and acquaintances.
He spent most of his life as a business owner, employing and giving opportunities to dozens of young men and women starting their careers in the building trades; often acting as a mentor and benefactor to help them start their own successful businesses. He took great pride in helping them succeed.
Wayne enjoyed reading about the history of our nation, baking pies, mowing the lawn and watching golf and the Mariners play. He loved dogs and will be missed by the rest of the pack: Bandit, Griz, Zorro and Ruby.
Wayne is preceded in death by his parents and wife of 62 years, Joyce, and by several of his siblings: Darris, Sidney, JS, Mary Margaret and Marjorie Sue. He is also preceded in death by two infant grandsons, Thomas and Timothy Homer.
He is survived by his daughter Brenda (Tim) Homer, of Salt Lake City, Utah, son Gary (Betty) Jones, of Tacoma, Wash., son Ron (Michelle) Jones, of Yelm, Wash., and daughter Margo (Ed) Kittle, of Packwood, Wash.; eight grandchildren and their spouses, and 17 great-grandchildren. Brothers Glenn and Bill and sisters Delores, Dorothy and Linda also survive him.
A family graveside service will be held at Tahoma National Cemetery on Monday, July 28. All who knew and loved Wayne are invited to attend an open house celebration of his life at the Jones residence on Saturday, July 26, from 2-5 p.m.
Please sign the online guest book at dryermortuary.com.