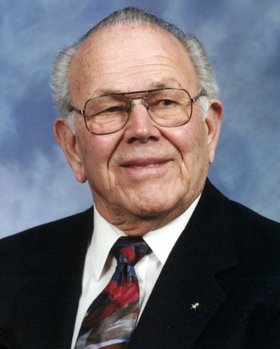 Lawrence "Buck" William Hermann
May 9, 1918 - July 17, 2014
Lawrence William (Buck) Hermann passed away peacefully with his family by his side on July 17, 2014. Buck was born May 9, 1918, in Hester, Mo., to William and Mary Herrmann (a birth certificate error caused Buck's last name to forever be spelled differently than his parents').
Buck's family moved to Oregon in 1935. He met Eastern Oregon student Lenna Neill in 1937. As Lenna wrote, "I was actually on a date with someone else when I met Buck. He came up and introduced himself and that was IT. He never was, and still isn't, at loss for words." They were engaged on Feb. 4, 1938, and married in Lewiston, Idaho, on May 20, 1939. Lenna passed away in March 2010, just a few months prior to their 71st wedding anniversary.
Buck drove fuel truck for Fletcher Oil in Boise, Idaho, for the first year of their marriage. He was transferred to La Grande in 1940 as a commissioned distributor for Fletcher Oil.
During World War II Buck moved to Medford to work on the construction of the Camp White army base. For the following three years he worked for Warren Northwest building airports in Redmond, Madras, Aurora, Astoria and other Oregon locations. Buck and Lenna moved back to La Grande in 1944 but shortly thereafter moved to Hamilton, Ore., where Buck worked as a logger "skinning cat." Two years later they, again, moved back to La Grande where Buck and his brother, Bud, operated a Signal Oil service station next to the underpass. Buck became the bulk oil distributor for Signal Oil and continued until 1969 after Signal was acquired by Enco Oil.
He and Lenna started renting Aloha vacation trailers in 1959 anticipating changes that were in the works for the oil business. In 1969 Hermann's Trailer Sales and Rentals became a full-time business that grew to include RVs, boats, snowmobiles and motorcycles. Lenna retired from teaching in June 1980 and Buck closed the RV business in December of the same year.
Buck always made time for family and community service. He loved hunting and fishing, especially with grandchildren, and they loved being with him. He was president of the junior high PTA and in 1960 he was named "Father of the Year" by the Union County Cowbelles. In January 1962 Buck took over a city commission seat recently vacated when his father died. He was permanently elected a year later and officially became La Grande's first mayor as the council presidency was changed to "mayor" during his tenure.
Buck was a founding member and president of the Oregon Snowmobilers Association that thrives today due to his and Lenna's efforts along with so many they befriended.
Buck created the annual Shriners Pizza Feed in cooperation with Klondike Pizza (now Bear Mountain Pizza). This event has raised significant money over the years for the Shriners Hospital for Crippled Children. Though the event continues each September there is no denial that ticket sales have never quite been the same since Buck suffered a stroke in 2007 and relocated to an assisted care facility in Hood River.
Buck was relocated from Hawks Ridge to the Hood River Care Center in December 2013. The staff members, in addition to those at Heart of Hospice, were saddened to learn of his passing as so many of them claimed that "Buck was our favorite. His sense of humor and kindness was unique. We will miss him dearly."
Survivors are son and daughter, Bill (and Jodi) Hermann, of La Grande, and Sharlene (and Ron) Wilkins of Hood River; grandchildren Kim (and Anthony) Hilton and Greg Hermann of La Grande, Jason (and Kim) Wilkins of Hood River, Julie Dromgoole of Portland and Etta (and Jeff) Foster of Portland; and six great-grandchildren.
A memorial service will be held at the First Christian Church, 901 Penn Ave., La Grande, at 10 a.m. Saturday, July 26.
Memorial contributions may be made to Heart of Hospice, Hood River, or the Shriners Hospital for Crippled Children in care of Loveland Funeral Chapel, 1508 Fourth St., La Grande, OR 97850.