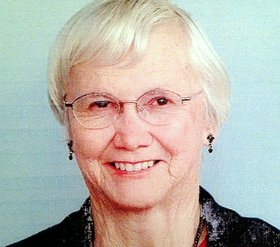 Mary Lou Bellus
November 2, 1928 - July 23, 2014
Mary Lou Bellus was born Nov. 2, 1928, to Hugh and Esther Sanger Waite. She went home to be with the Lord on July 23, 2014, surrounded by her loving family.
Born a coal miner's daughter in Superior, Wyo., she was the baby sister to three older brothers, George and twins Harold and Herbert. As a child, the family moved to Sterling, Colo., where Mary Lou attended school.
Mary Lou graduated high school in 1946, and due to the teacher shortage caused by the war, she received an emergency teaching certificate and taught in a one-room schoolhouse for a year. One of her greatest adventures while teaching was killing a rattlesnake in the outhouse with a shovel, a story told many times.
After her year of teaching, she went on to study engineering at the University of Colorado at Boulder, the only woman in her engineering class. One day while waiting at the local soda fountain to get a ride home from school, the handsome soda jerk, Forrest Bellus, caught her eye.
Having made a promise to her mother to graduate college before marrying, Mary Lou graduated with a degree in architectural engineering on June 9, 1951. She married Forrest Bellus the following day, June 10, 1951, a union that lasted 46 years until his death in 1998.
Having been called back to serve in the Navy during the Korean War, Forrest settled his bride in Seattle, Wash., where Mary Lou had taken a drafting job with Boeing. Known as "that girl engineer," Mary Lou was responsible for drafting change notices during the development of the B-52 Stratofortress, the backbone of the U.S. Air Force. She was extremely proud of her involvement in the development of the B-52. She also witnessed the first test flight and was able to sit in the cockpit of the first one produced.
Mary Lou's pioneering spirit has been a source of inspiration and encouragement to her children and grandchildren.
Following Forrest's discharge from the Navy, the couple moved back to Eastern Colorado. As she awaited the birth of their first child, the ever-resourceful Mary Lou crafted a deal to trade the design of a house for a baby crib. The house is still standing in Sterling, Colorado — the crib is not.
Their first child, Forrest Kevin Bellus, was born in 1953. Shortly thereafter the family moved to Hermiston, Ore., where they purchased a gas station. Following their move to Hermiston was the birth of their second son, Brian Hugh Bellus.
In the following years, the family made several moves as Forrest's career with U.S. Bank took them to Pendleton and Hines. In 1959 the family packed up and moved to Hood River for a joint business venture with Forrest's parents: the opening of Hood River Stationers.
Mary Lou integrated her artistic passions in the business by managing the art and gift departments of the store. The gift-wrapping skills Mary Lou acquired during her time with Hallmark were legendary among the family and somewhat intimidating to her daughters-in-law. Mary Lou worked at Hood River Stationers for 20 years until she and Forrest sold the business and she retired in 1979.
Mary Lou took advantage of the natural beauty of the Gorge and was an avid hiker, along with her friends Lois Talbot and Venette Duckwall. The trio dubbed themselves the "Idiot Hiking Club" and together they traversed hundreds of miles of mountain trails throughout the Columbia Gorge and Oregon Coast.
Mary Lou was also able to translate the beauty of the Gorge through her artistic passions: photography and painting. An avid painter in water colors, oils, and acrylics, Mary Lou was a member of the Hood River Art Club for many years, entering competitions and selling her art at local galleries.
Mary Lou spent many joyous hours painting with her friends Norman Tucker, Lois Talbot, Percy Manser and Alice Malliette Smith. She looked forward to Monday morning breakfast with Norman and Pat Tucker, gabbing about art, drinking coffee and reading the latest "banana-gram" left by her son, Kevin.
Mary Lou was also an enthusiastic crafter and used her talents as a member of the Busy Fingers Knitting Group, knitting baby booties and hats for the local hospital. She was also a member of the Dog River Quilters and the Columbia Gorge Quilters Guild.
Her art room was a treasure trove of projects and possibilities for her family. You could always rely on Mary Lou to have fabric, yarn, construction paper, paints, and an endless supply of googly eyes for any project.
In her later years, Mary Lou became an avid fan of the Seattle Mariners, rarely missing a televised game.
Following Forrest's retirement, the couple traveled extensively throughout the United States and Canada. Having caught the traveling bug, Mary Lou strove to instill the love of traveling in her family and continued to travel after the death of Forrest. A highlight of her travels was a trip to Italy with her sister-in-law Beverly Harkenrider, where she was able to see the art she had always dreamed about.
As a faithful follower of Christ, Mary Lou was a member of the Hood River Church of the Nazarene for over 40 years. She taught Sunday school, worked at VBS, attended Bible studies, sang in the choir, and passionately supported their missions programs.
She always looked forward to her time spent at the Sun Valley Indian School in Arizona and Labor Day weekend at Camp Baldwin. She made many dear friends during her fellowship with the Nazarene Church and was a joyful servant of Christ.
It was quickly obvious to those who knew Mary Lou that she was especially proud of her grandchildren and great-grandchildren, finding any excuse to show a recent photograph. She was always thankful her two sons, four grandchildren and 11 great-grandchildren all live in Hood River, and she faithfully attended many choir concerts, baseball games, graduations, dance recitals, lacrosse games, football games, school plays, and other school programs. She spent many blessed hours rocking babies to sleep and tickling tummies to the bumblebee rhyme.
Mary Lou was preceded in death by her parents, three brothers and her beloved husband, Forrest.
Mary Lou will be dearly missed by her sons, Kevin and Brian Bellus and her beloved daughters-in-law Karen and Valerie Bellus, grandchildren Jodi (Larry) Wyatt, Jamie (Kyle) Waits, Matt (Amanda) Bellus and Gretchen (Steve) Goss; and great-grandchildren Carly Wyatt, Isaac Phelps, Miles Wyatt, Eli Phelps, Braeden Bellus, Ayden Phelps, Kamryn Bellus, Tatum Wyatt, Owen Waits, Kellen Goss and Addison Goss.
A memorial service celebrating the life of Mary Lou Bellus will be held at the Hood River Church of the Nazarene on Aug. 2 at 11 a.m. Memorials may be made to the Hood River Church of the Nazarene.
Arrangements are under the direction of Anderson's Tribute Center (Funerals • Receptions • Cremations) 1401 Belmont Ave., Hood River, OR 97031; 541-386-1000. Please visit andersonstributecenter.com to leave a note of condolence for family.

Condolences are being received online.