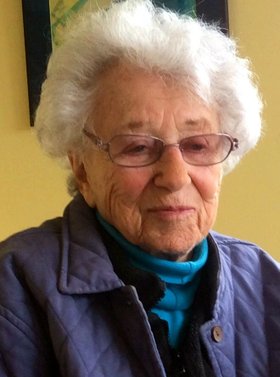 Yereth Knowles
November 17, 1920 - July 22, 2014
Yereth Knowles led a full and rich life. Her earliest memories are of a childhood home in Greenwich Village, NYC, during the Great Depression where artists, writers, Spanish Civil War volunteers and political leaders came for food and conversation. She was very close to her sister Mary and together they wandered the neighborhoods and museums and attended George School in Bucks County, Pa.
Yereth met and married William Knowles at the University of Wisconsin, and during World War II she worked where he was, as a social worker, draftsman and cab driver.
As a young mother and faculty wife, Yereth took up fiction writing. She was a protégé of Flannery O'Connor and worked hard at her craft and published one novel, "The Town is Aaron."
The Knowles family traveled extensively, living in the Caribbean, California, Uruguay, the Netherlands and Switzerland. Yereth began teaching at InterAmerican University in Puerto Rico in 1963 and completed her Ph.D. in international politics at the International Institute in Geneva, Switzerland, at the age of 50. She retired in her 70s from George Mason University in Virgina, then continued teaching in Life-Long Learning programs for another decade.
Yereth's passions ranged from teaching, politics, literature, music, travel, skin diving and animated conversation. She traveled to El Salvador as a Witness for Peace. She was a recognized character in her beloved La Parguera, Puerto Rico, where she could be seen snorkeling the reefs alone when her usual buddies were busy.
She moved to Hood River, Ore., in 2008 to be near her children, Timothy and Christine Knowles. She enjoyed Mount Adams, her book group and Hood River cherries.
Dr. Yereth K. Knowles died July 22, 2014, in her Brookside apartment in Hood River at the age of 93. She will be missed.

Condolences are being received online.