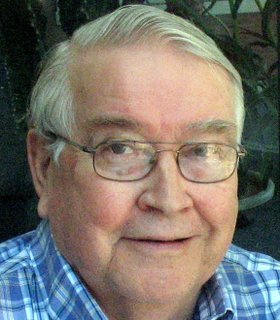 Eugene Courtney Euwer
March 31, 1935 - May 21, 2014
Eugene Courtney Euwer, 79, passed away Wednesday, May 21, 2014, surrounded by those he loved at his home in Parkdale, Ore. Gene was born March 31, 1935, to Florence and Eugene Euwer.
In 1937 his sister, Virginia was born. Their father, Eugene Courtney Euwer, died in 1942. Gene grew up on the family farm in Parkdale. He quickly learned family responsibility and learned to do the chores of the family farm early in life. He graduated from Parkdale high school in 1952 and earned a bachelor's degree from Stanford University in 1956.
A Celebration of Life is planned for 2 p.m. Sunday, June 8, at Mount Hood Town Hall, 6575 Highway 35, Mt. Hood-Parkdale, Ore.
He married Margaret in 1956. During their early years as a farm family in Parkdale, Eugene learned the remaining skills he needed to become a successful orchardist. Returning to his farm following college he not only learned to begin to bring his love of the land but in equal measure, his love for his fellow man to bear in his business.
He loved his community, serving as a volunteer fireman in the early days when nearly all were volunteers. He became a Crag Rat and participated in many mountain climbs and rescues. He was elected to the hospital board, he served as chairman of the school board, as a Sunday school teacher, as the chairman of the Diamond board of directors and as a member of the Pear Bureau.
He traveled to Europe, Mexico and South America as a representative for Diamond Fruit Growers and the Pear Bureau at a time when few people in the industry had his command of Spanish.
When six young Mexican men came to Gene, looking for work, he hired them. Many of these men are still working for Gene's daughter, Jennifer, as are several sons of the men. Most of these young people today are going to college and pursuing other kinds of higher education and various skills. Many have already completed college and are contributing members of society, with some thanks to Gene's encouragement and guidance.
Before there were other avenues to medical help, Gene provided free medical care to his workers. One of the first things Gene did was to study Spanish, becoming fluent in a few years with study in classes and practice with his workers.
His loyal crew has added their culture, their traditions, their kindness, their skills as mothers and fathers to their own children, and their sense of responsibility to work. Their reliability and honor have contributed immeasurably to Gene's family and to the whole community. The entire family loves and respects them.
Gene is survived by his own loving family, daughter Nathalie, her husband, Joe, and their children Brendan and Celine; daughter, Jennifer, and her two sons Henry and Ian and their father, Steve Hunt; Maren, her two children Noelani and Donald, and half sister and brother, Jessica and Justin.
He is also survived by his sister, Virginia Euwer Wolff, and her children, Anthony Wolff and Juliet Wolff; grandnephew Max and grandniece Sarah. He is survived by his adoring wife, Meg, to whom he was married 57 years.
Memorial contributions may be made in Gene's name to the Parkdale Growers Scholarship, P.O. Box 69, Parkdale, OR 97041; Attn.: Angie Green.
Arrangements are under the direction of Anderson's Tribute Center (Funerals, Receptions, Cremations), 1401 Belmont Ave., Hood River, OR 97031; 541-386-1000. Please visit andersonstributecenter.com to leave a note of condolence for family.

Condolences are being received online.