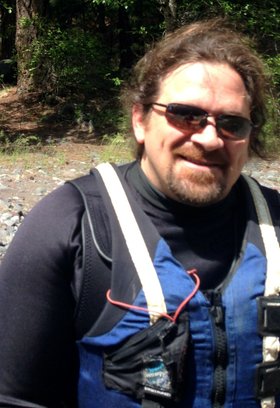 Steven Anthony Revier
November 13, 1972 - unknown
Steven Anthony Revier, 41, was in a rafting accident on Saturday, May 17, 2014, on the Klickitat River, Wash. After an extensive search, he was found on Saturday, May 24.
Steve was born in Forest Grove, Ore., on Nov. 13, 1972, but lived in Gaston, Ore., from the age of 3 months until he graduated from high school in 1990, when he joined the Navy to be a medical corpsman.
During his 10 years of service, he was stationed in Pensacola, Fla., Bethesda Naval Hospital, Md., and on the carrier USS George Washington. In 2000, Steve separated from the Navy and became a firefighter and paramedic for Montgomery County, Md., Department of Fire and Rescue Services. In 2007, Steve felt the call to return home to Oregon, and settled with his family in Hood River.
Steve worked for AMR as paramedic in Portland for four years. During the last two years, Steve took courses to complete the prerequisites for the Physician Assistant program while working full-time. He was accepted into the University of Washington's MEDEX Northwest Physician Assistant program, and graduated in 2013 with a Bachelor of Science degree and was certified as a physician assistant. He was employed as a PA in Hood River immediately after graduation.
Medicine and safety have been themes throughout Steve's life, beginning as a volunteer firefighter in Gaston at the age of 15. He volunteered on the Search and Rescue team in Virginia Beach, served as the safety chair of the Monocacy Canoe Club, Md., and was part of the Reach and Treat (RAT) Team with AMR in Portland.
His first love was rock climbing, but when he met his wife, he became a raft guide and started kayaking, rafting and canoeing various whitewater rivers and creeks on the East Coast. With family and friends, he led multi-day trips on the Middle Fork of the Salmon River in Idaho and the Deschutes River in Oregon.
Steve loved sharing his passion for the Pacific Northwest with his family and friends through skiing, rafting, hiking, hunting, fishing, camping and bicycling.
He is survived by his children Zachary, Jacob and Gretchen Revier, Hood River; wife Mauree Donahue Revier, Hood River; mother Helen Revier, Forest Grove; and brother Gene Revier (and wife Amy), Salem, Ore.
He is preceded in death by his father, Eugene Revier.
The family suggests that donations be made to the children's college education fund at Pacific NW Federal Credit Union, account #168641.
A Celebration of Life for Steve will be held in Maupin on the lawn of the Imperial Hotel at 1 p.m. Saturday, June 7. Afterwards, some family and friends will raft the Deschutes River in Steve's memory. For friends and family on the East Coast, a Celebration of Life will be held on Sunday, June 29, in Harpers Ferry, W.V.