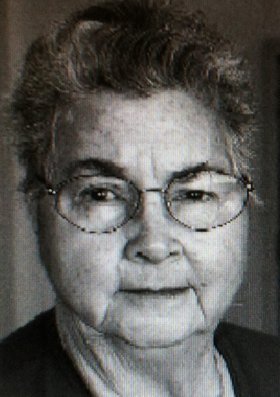 Leanna Joyce Harrison
May 13, 1930 - January 1, 2010
Longtime Mosier, Ore., resident Leanna Joyce Harrison passed away after a long illness in Claremore, Okla., on Jan. 1, 2010. Leanna Joyce Fox was born to Virgil and Frieda Fox May 13, 1930, in Columbia, Mo. During her early years she lived not only in Missouri, but Iowa, Kansas, and during her middle school years her family moved to the Air Force base in Childress, Texas.
Once the war was over they moved to Eugene, Ore., where she began her high school years at University High School. Her family moved to Blue River, Ore., her junior year. Leanna graduated from McKenzie High School in June 1948. On Sept. 7, 1948, Leanna married Robert Harrison.
During their early years of marriage they traveled all over Oregon and Washington following his jobs with the Bureau of Public Roads. Bob and Leanna bought their first place in Elmira, Ore. Their three children, Rhonda, Cheryl and Steven, were born during this time.
In 1957 Leanna and her family moved to Oakridge, Ore., as Bob was now employed by the U.S. Corps of Engineers. During these years Leanna worked on a turkey farm in Elmira, a waitress and cook in a restaurant in Oakridge and she was also a census taker for the U.S. Census Bureau.
Leanna was an active member in the community of Oakridge by being a Girl Scout leader, Cub Scout leader and 4-H leader. She was a member of the First Christian Church of Oakridge.
In July 1963, she and her family moved to Longview, Wash. There she was an active member of the Central Christian Church in Kelso and was very active in the Mt. Solo Saddle Club and the Appaloosa Association, and helped with 4-H. She was a cook at Rutherglen Nursing Home, Irby's Drive-in and The Golden Gate Restaurant.
Once all three of their children graduated from high school, she and Bob moved to Mosier, Ore., in 1972. They purchased an old cherry orchard in Mosier and began their life's passion — growing fruit! While living in Mosier she was an active member in the Mosier Christian Church. She served as president of the board, an elder and a member of the minister selection committee. She was also a Sunday school teacher and vacation Bible school teacher. She was active in the Mosier Grange, Toast Mistresses, and Tea Cup Club.
While they worked every day in the orchard, she also worked as a cook at the Hood River Inn and Irene's Café plus she wrote the Mosier news for the Hood River News for many years.
Her greatest love was her family and friends, but next was her love of playing Scrabble! She loved to play with family and friends! Just as her mother, Frieda, trained her grandchildren and great-grandchildren to be her Scrabble partners, so did Leanna! From about the time they could sit on her knee, she began training them to play. By 8 years old everyone was a potential Scrabble partner/victim!
In 2006, Leanna moved back to Longview to be near her son, Steven, and daughter, Cheryl. Due to failing health, Leanna moved to Oologah, Okla., in 2010 to live with her retired daughter, Rhonda.
Leanna was preceded in death by her husband, Bob; her parents, Virgil Fox and Frieda Mehrhoff; her brothers Virgil Fox and James Fox; her sister Patricia Ashe; and grandson Eric Konop.
Leanna is survived by her brother Don Fox, of Marcola, Ore.; daughter Rhonda and her husband, Paul Fields, of Oologah, Okla.; daughter Cheryl and her husband, Bruce Konop, of Longview, Wash.; and son Steven Harrison and his wife, Kathy, of Kelso, Wash.; eight grandchildren: Brian, Launce, and Reed Fields, Leif Warnberg, Kelli Gladheim, Amy Steele, Robby Harrison, and Cassi Kubacki; and seven great-grandchildren: Halen Borron, Gage Fields, Chance and Grady Steele, Kellen and Kate Gladheim, and Zuki Kubacki on the way.
A memorial service for Leanna will be held at the Mosier Christian Church at 2 p.m. Saturday, June 28, with a dinner to follow at the Mosier Grange.