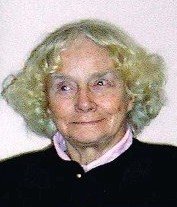 Betty Lou Hill
May 21, 1929 - June 4, 2014
Betty Lou Hill (Rogers, Bostwick), 85, passed away June 4, 2014, at the Ochoco Care Center in Prineville, Ore. A private interment will be held at Idlewilde Cemetery in Hood River, Ore.
Betty Lou Bostwick was born May 21, 1929, in Marshall, Mich., to Edythe and Lyle Bostwick. She was the youngest of four children: sister Marie, and brothers Kenneth and George. She spent her teenage years in Hood River, Ore.
When she was in high school she met 23-year-old U.S. Army Air Corps soldier Vernon Rogers, also from Hood River. Vernon was just getting ready to re-enlist in the Air Corps but after meeting Betty, he changed his mind. Betty finished high school early and they married in Hood River.
They were married for 24 years, and had four children: Vernon Jr., Craig, David and Joan.
Early in their marriage they lived and worked in the Hood River, Dee and Odell areas. Later they lived in Portland, and Vernon worked for United Grocers as a warehouseman for over 23 years. Vernon built their first house in Portland himself, constructing the entire plumbing system with salvaged pipe. They used to laugh that there were "no pieces of water-pipe longer than 3 inches in the entire home" — there were literally hundreds of pipe couplings holding it together.
They eventually bought an 80-acre farm in Eagle Creek, Ore., and Betty was a full-time mother. She enjoyed gardening, and they raised a variety of animals. In 1971 they divorced, and Betty moved to Boring, Ore.
Betty then held a variety of jobs: bank teller, CNA, secretary, and bookkeeping assistant. She had an entrepreneurial spirit and built an A-frame four-unit motel between Boring and Sandy, Ore., on the newly opened State Highway 26 freeway. Eventually Betty remarried (Ron Hill), and they later divorced.
After a serious hospitalization in 1986, Betty was left disabled and unable to care for herself. Joan brought her from the hospital into their home. She and her family cared personally for Betty from 1986 until 2009, when she moved into Haven House in Fossil, Ore.
In 1998, Joan, her husband Scott, and Betty moved to Spray, Ore. That same year Joan's father Vernon, who had lived many years on the Oregon coast, also decided to move into their Spray RV park. For years, the residents in Spray were confused — both Betty and Vernon "lived with Joan" but not together. Although divorced for many years, they enjoyed an amicable relationship until Vernon's death in 2004.
As Betty's health care needs increased, she eventually moved to Ochoco Care Center in Prineville, Ore. She passed away due to complications from a fall she sustained on May 29, which resulted in a broken hip.
The family wishes to thank the staff at Ochoco Care for the extraordinary, patient and loving care they gave Betty while she lived there.
Betty had a strong Christian upbringing as a child, and her faith became her anchor after the 1986 hospitalization. Throughout the intervening years and up until the day she passed, her Bible was never far from her side.
Betty was preceded in death by her parents and her siblings: sister Marie and Ed Coxen, brothers Kenneth and Lee Bostwick, and George and Eileen Bostwick.
She is survived by her children: sons Vernon Jr., Craig and Maria Rogers, David and Desina Rogers, and daughter Joan and Scott Field; and numerous grandchildren and great-grandchildren.
A memorial service for Betty will be held in Spray, Ore., at the Assembly of God Church at 11 a.m. Saturday, June 28. A time for fellowship will follow the service at The Rock. In lieu of flowers, a contribution can be made in Betty's name to Ochoco Care Center, 950 N.E. Elm St., Prineville, OR 97754.