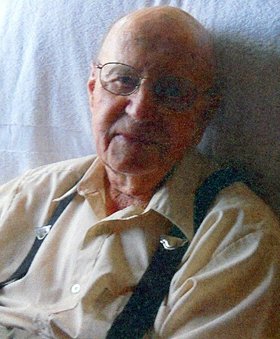 Clifford Whitten
August 26, 1912 - June 14, 2014
Clifford Whitten was born Aug. 26, 1912, in Oregon City, Ore., to Frank and Effie (Hays) Whitten at their farm home in the community of Hazelia, which is about three miles south of Lake Oswego. Clifford passed away at the age of 101 Saturday, June 14, 2014, at the Oregon Veterans Home in The Dalles, Ore.
He attended the Hazelia School, a one-room school house which at the time had eight grades and one teacher. He went there until the fifth grade at which time (1923) the family moved to Medical Springs, Ore., a small community 25 miles northwest of Baker, Ore. His school then was a two-room school, from which he graduated the eighth grade.
For four years he worked on the farm and on various other odd jobs and eventually in the spring of 1930 he went to work for the Collins Pine Company which had a sawmill at Pondosa, a sawmill town built up on the land adjoining his folks' ranch.
In fall 1930 the opportunity arose to attend high school in Baker City. The general manager of Collins Pine Company had a son of high school age and it was arranged to use the general manager's car and drive to Baker City to school with Cliff Whitten, the driver and 10 other kids to school in a seven-passenger Lincoln Town car. This was the first bus to Baker High School. Later that year regular bus service was instated with a yellow bus, but a far cry from the buses of today.
He graduated from Baker City in 1934 and attended Oregon State College from which he earned his Bachelor of Science degree in forestry in 1938. He spent five years with the United States Forestry Department as dispatcher, then eight years for the Oregon Lumber Company in Bates and Dee, Ore., as a logging engineer with time out for two years of service in the Navy during World War II as a lieutenant.
He took his indoctrination training at Fort Schuyler, the Bronx, N.Y., then spent the rest of his enlistment at the naval base on Tinian, Mariana Islands. Upon his honorable discharge from the Navy he returned to Dee and worked for the Oregon Lumber Company until 1948 when he went into business for himself, first as a grocery store owner in Odell and later as a franchised Firestone Tire Dealer in Hood River until his retirement in 1972.
He helped organize the Odell Rural Fire Protection District and was a member of the board of directors for 25 years, and remained a member for 30 years. He joined the American Legion in 1946 and has been a continuous member since. He joined Lodge #181 IOOF in 1979 and has remained a member.
In 1958 he took up trap shooting and joined the Pacific International Trapshooting Association. The highlight of his trapshooting years was when he won the PITA Oregon State Handicap Championship in 1963 and again in 1964. This was the first time that this event had been won by the same person in two consecutive years. At other times he won the Oregon State Class "A" Singles Championship and the class "D" Doubles championship. He competed in shoots from Anchorage, Alaska, to Sacramento, Calif., and many places in between.
Cliff attended the PITA Grand in Reno, Nev., every year until his retirement from trapshooting in 1979. He enjoyed hunting and fishing during his retirement years. For many years he never missed opening day of duck season in Baker Valley.
In 1940 Cliff married Elizabeth Kelly of Baker City. A daughter, Kay Lisabeth, was born in 1944 while he was in indoctrination training in New York. Elizabeth passed away in 1976. In 1977 he married Alice Peyton of Hood River and they have lived on their acreage of Ehrck Hill Drive since then, with the exception of seven years when they spent the winters at their mobile home in La Quinta, Calif. They gave up going down there in 1995.
Cliff is survived by his wife, Alice, of Hood River; daughter Kay Sorensen and her husband, Greg, of Hillsboro; grandson Gregers Sorensen and his wife, Terri, of Hillsboro; granddaughter Alisa Smith and her husband, Shawn, of Aloha; great-grandchildren Emily Sorensen, Gregie Smith and Matt Smith.
He is also survived by Alice's children David Peyton, of Hood River, and Carole Barger, of Ocean Park, Wash.; and his nieces and nephews.
Memorial contributions can be made in Cliff's name to the Odell Fire Department.
Private family inurnment will be at Finley Sunset Hills Memorial Park in Portland, Ore. Arrangements are under the direction of Anderson's Tribute Center (Funerals, Receptions, Cremations), 1401 Belmont Ave., Hood River, OR 97031; 541-386-1000. Please visit andersonstributecenter.com to leave a note of condolence for family.
Condolences are being received online.