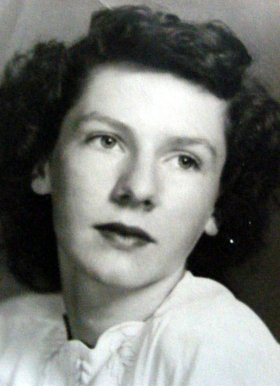 Ellen Lorraine Cooper
January 12, 1929 - June 2, 2014
Ellen Lorraine Cooper, 85, of Happy Valley, Ore., passed away on Monday, June 2, 2014, in Happy Valley. She was born Jan. 12, 1929, in Blue Mound, Kansas, to Merrell F. and Ethel G. Utley. The family sold their farm in Kansas in the spring of 1937 and migrated to Hood River Valley in Oregon, where they pursued orchard-related work.
On Aug. 26, 1949, E. Lorraine Utley married Donald "Don" R. Cooper in the Pine Grove Methodist Church in Hood River, Ore. They had two children, Karen and Nancy.
Throughout the years Lorraine resided in Kansas, California and Oregon.
Lorraine is survived by her husband, Don; daughter Nancy (Johan) Jeffery, of Provo, Utah; grandchildren Jason (Sandy) Jeffery, of Amsterdam, N.Y., Garet Jeffery, of Provo, Utah, Ammon (Jamie) Jeffery, of Provo, Utah, and Daren Jeffery, of Provo, Utah; great-grandchild Jadyn Jeffery, of Amsterdam, N.Y.; sister Doris (Allan) Sharkey, of Bend, Ore.; brother Harold (Ruby) Utley, of The Dalles, Ore.; and nieces and nephews.
She was preceded in death by her daughter Karen Mosby; parents Merrell and Ethel Utley; sister Lyndall Loken; brother Harlan Utley and niece Diane (Sharkey) Smith.