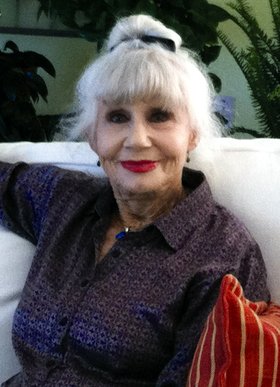 Patricia Miller
January 7, 1930 - June 12, 2014
Patricia (Evans) "Patty" Miller, dear mother of Jack, Randy and Timothy Miller and Laurel Patrick, died peacefully in her home in Hood River, Ore., on June 12, 2014, at the age of 84, of multiple age-related illnesses.
Patty is remembered fondly by her brother, John Evans; her daughters-in-law, Renee Miller, Micki Chapman and Beth Brampton; her grandchildren, Cedar, Patrick, Alexander, and Poppy Miller and Beth Jarman, two young great-grandchildren, and many cousins.
Patty was born Jan. 7, 1930, in Santa Monica, Calif. She married Ray Miller on July 2, 1948. Patty and Ray moved their young family to Santa Cruz, Calif., in 1964, where they planned to grow cut flowers for market, including exotic proteas.
Patty was an affectionate mother to her children, and a supportive, hard-working helpmate to her husband. They built an attractive home from scratch, remodeled two others, and grew fine gardens, widely admired.
At Patti's Bloomers on the Santa Cruz garden mall, where Patty and Ray sold flowers, house plants and gifts, Patty became friendly with innumerable Santa Cruz residents. Later, after the Santa Cruz earthquake, Patty helped her husband and son, Jack, run Santa Cruz Coin exchange, a thriving business.
Patty was famous around Santa Cruz for her line dancing classes, which she taught with exceptional warmth and enthusiasm. In 2006, Patty and Ray moved to Wilsonville, Ore., to be closer to their children and grandchildren.
After Ray Miller died on June 20, 2009, Patty moved to Hood River. There, she lived a quieter life, though her friendly personality won the hearts of many friends and neighbors. She joined a book club and the Odell garden club, volunteered at the FISH food bank, taught line dancing and enjoyed time with her children and grandchildren.
Her children will hold a private memorial service. Patty's death was eased by Heart of Hospice, which will gratefully receive memorial donations.