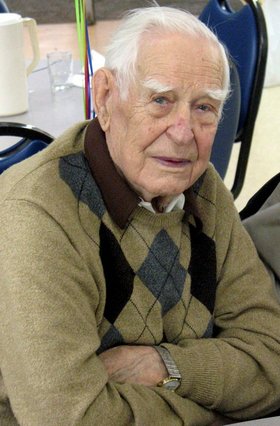 Frank Clemmons Jr.
October 27, 1914 - February 11, 2014
Frank Clemmons Jr. passed away Feb. 11, 2014, in Corvallis, Ore. He was born Oct. 27, 1914, in Hood River, Ore., to Frank and Louise Clemmons Sr.
Frank was raised in Hood River and married Peggy Baldwin on April 18, 1942. He joined the Army Air Force and became a pilot and bombardier. He flew 53 missions in B17s and received many awards, including the Distinguished Flying Cross.
After the service he owned a sawmill and a cherry orchard in Mosier, Ore., with his brother Buford. Frank loved to hunt, fish and played golf into his early 90s.
He moved to Corvallis, Ore., in 1964, where he retired from the lumber industry. In 1989 Frank and Peggy moved to King City, Ore. Peggy passed in 1995. He spent the rest of his days with a longtime friend and companion, Stephanie Cooper. He had many friends and will be missed by all.
He is survived by his sister, Virginia Baldwin, of Hood River; son Larry and his wife, Lori Clemmons, of Corvallis, Ore., daughter Christi Fawkes and her husband, Gordon, of El Dorado Hills, Calif.; and four grandchildren: Chad Clemmons, of Bothell Wash., Ryan Clemmons and his wife, Abby, of Eugene, Ore., Bryan Fawkes, of Mather, Calif., and Gail Chronister and her husband, Rod, of Bakersfield, Calif.
Frank also had eight great-grandchildren: Korbin, Kaylee, Ashton, Tyler and Lauren Clemmons, Trevor Fawkes, Corbin and Courtney Chronister. All his grandchildren affectionately called him, Gampy.
Memorial contributions may be made to Life Community Church, 4900 N.W. Highway 99, Corvallis, OR 97330.
No service will be held upon the request of Frank Clemmons.
A memorial service/potluck will be held in Frank's honor at the Tigard Eagles Lodge at a future date to be determined.