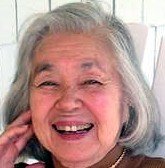 Aki Yamazaki
March 25, 1921 - March 5, 2014
Aki Yamazaki, 92, of White Salmon, Wash., passed away March 5, 2014, peacefully, surrounded by family, at the Hood River Care Center in Hood River, Ore. She was born Akiko Hirashiki, March 25, 1921, in Los Angeles, Calif., to Anko and Toshiko (Tominaga) Hirashiki.
She was in her senior year at UCLA when her education was interrupted by the Japanese American Internment. She finished her studies at Columbia in New York City but wasn't rewarded her diploma until 1992.
In 1944, Aki married Dr. James Yamazaki at Grace Episcopal in NYC; they would have celebrated their 70th anniversary, on April 1. Their oldest son, Noel, died as a newborn while James was a POW in Germany (he was captured at the Battle of the Bulge).
After the war, James finished his residencies in Philadelphia and Cincinnati. In 1949, they moved their young family to Nagasaki, Japan, where James was physician in charge for the ABCC (United States Atomic Bomb Causality Commission).
Returning to Los Angeles in 1951, they raised their younger three children in the San Fernando Valley until they moved to White Salmon in 2007. The local Nikkei group welcomed them to join in their social events.
Aki was a warm, loving and generous woman and was adored by her family and friends. She was deeply loved and will be sorely missed by her husband, Jim; son Paul and his wife, Sara, of San Francisco; daughters Katharine of Taos, N.M., and Caroline and her husband, Brad Roberts, of White Salmon; grandchildren Yuki, Taro, Mariko, Jazmin and Taniya; and great-grandchildren Santino, Mariana, Angelito and Annalea; many nieces, nephews and countless "adopted" family.
She was preceded in death by her son Noel, grandson Masami, brothers George and Jimmy Hirashiki and sister Teruko Hirashiki Yamasaki.
The family requests any remembrances be sent to Aki's favorite charity:
Southern Poverty Law Center, 400 Washington Ave., P.O. Box 548, Montgomery, AL 36177-9621.