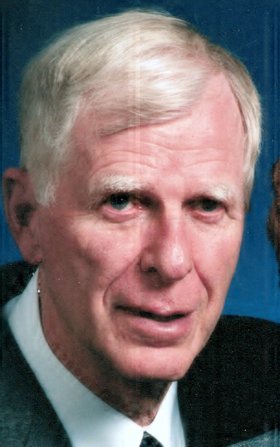 Alfred Miles
July 18, 1926 - March 4, 2014
Alfred Miles, 87, died Tuesday, March 4, 2014, at Jefferson Manor Memory Care in Dallas, Ore. He was born July 18, 1926, in Buffalo, N.Y., son of the late Henry Charles and Augusta Steppen Miles.
Alfred was a graduate of Kenmore High School and Perdue University. He served in the Army Air Corps during World War II. He worked at Pullman Standard Railroad, Hammond, Ind., GE, Evendale, Ohio, and KAPL in Niskayuna, N.Y., as a mechanical engineer and held several patents. He was the owner-founder of the Homestead Ski Area, Pattersonville, N.Y., where he was affectionately known as "Big Al."
In retirement he drove a school bus for the Beaverton, Ore., school district.
He was predeceased by his sister Grace and brothers Harold and Charles; Lucy "Sea hag" Miles and Labrador retriever Dusty.
He is survived by Betty J. Miles; Marlu Hokenson Sidenstick; children Anne Bateman (Lloyd) Cynthia, Jon A. Miles (Nancy Michela), and Jennifer Nesta (John); brother, David Miles; seven grandchildren, two great-grandchildren and several nieces and nephews.
Friends and family are invited to the funeral and memorial service on Friday, March 14, at 10:30 a.m. at St. Peter Lutheran Church, 2776 Route 9, Ballston Spa, N.Y.; Rev. Peter Klotz officiating.
Interment with full military honors will be held in the Gerald B.H. Solomon Saratoga National Cemetery, Schuylerville, N.Y.
Memorial contributions may be made to Saratoga County Animal Shelter, 6010 County Farm Road, Ballston Spa, NY 12020; or Alzheimer's Association, 4 Pine West Plaza, Albany, NY 12203.
Arrangements are under the direction of the Townley & Wheeler Funeral Home, 21 Midline Road, Ballston Lake, N.Y.; leave messages on Alfred's Book of Memories at TownleyWheelerFH.com.
Condolences are being received online.