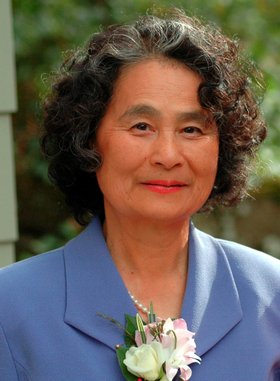 Azusa Suzuki
January 1, 1940 - March 13, 2014
Azusa Suzuki, 74, of Parkdale, passed away on March 13, 2014, at her daughter's home in Salem, Ore. Azusa was born on Jan. 1, 1940, in Tianjin, China, the first of three children born to Yomisu Io and Ko Akaki.
In 1947, following Japan's defeat in World War II, the family returned to post-war Japan after being incarcerated in a Chinese concentration camp. Her father had been an engineer for a shipping line and the family had lived in an international village in Tianjin, where Azusa became friends with expatriates from all corners of the world.
As a child Azusa was fluent in Chinese. Tragically, a short time after their return to Japan, her father passed away. Her mother later married Taro Shiomi, who raised the three children as his own.
In school, Azusa excelled in swimming and running and held many school records. After graduating from Minami High School in Okayama, Japan, she became a beauty school teacher and eventually opened her own beauty salon.
In 1969, a good friend introduced her to Hideo "Suzy" Suzuki, a Parkdale orchardist who was visiting Japan. They married in July 1969. Together they raised two daughters, Carol and Tracy, in Parkdale.
While the girls were in school, Azusa was a room mother and frequent volunteer with anything in which the girls were involved: Bluebirds, 4-H, softball, gymnastics, band, theater and dance.
However, it was through the 4-H program that Azusa really made her mark — she was a local 4-H leader for over 35 years. She was a leader of the Stitch and Stir 4-H club and taught several groups of girls (and boys) how to sew, cook, bake, knit, and build confidence in public speaking. She proudly accompanied her 4-Hers to compete in contests at the Oregon State Fair in Salem, served on the state 4-H board and chaired the Hood River County Fair Record Book judging committee for many years. Her goal was to make a difference in children's lives and give them a firm foundation in skills that they would have for the rest of their lives.
Azusa placed high importance in education, literacy, cultural exchange and community service. She was a longtime community volunteer at the Parkdale Community Center, and a member of the Parkdale Garden Club, the Parkdale Grange, and the Tsuruta Sister City organization in Hood River. Azusa was recognized by the Hood River Soroptimists as a "Woman of Distinction" for her many contributions to the community.
In the late 1990s, a new chapter opened in Azusa's life. She began to travel to Mexico annually during the winter for health reasons. She found these trips therapeutic, particularly after suffering a stroke in 1999. Her favorite spot to visit was a small fishing village called Melaque, where she rented a bungalow and joined a community of Canadian retirees each winter.
In 2008, Azusa became a grandmother. Both of her daughters gave birth to baby girls in January of 2008 and brought her great joy. From that time forward, Azusa increasingly spent time in either Portland or Salem to help raise her granddaughters.
Azusa was a "foodie." Few things brought her greater joy than cooking for family and friends. She would frequently stop by at the homes of Mary Lou Larsen, Shig Imai, Jace Castello and Cynthia Yoshida and drop off her latest cooking creation. She was famous for her apple pies and frequently watched Food Network shows.
Azusa had varied interests and was an OSU Master Gardener, an OSU Master Food Preserver, a member of a bowling league and the Sweet Adelines — a barbershop singing group — ballroom dancing and most recently joined a ukulele class at the Salem Center 50+.
Azusa was diagnosed with ALS in 2013 and fought valiantly against the ravages of the disease until the very end. She was deeply loved and will be sorely missed by her family and many friends.
She is survived by her daughter Carol and son-in-law Brian Clem, of Salem, her daughter Tracy and son-in-law Dale Suzuki, of Portland, and grandchildren Mia and Suzy Suzuki and Kohana Jade Clem. Other survivors include her brother Motohiko Shiomi of Fukushima, Japan, his wife, Sachiko, and their son, Aisaku; and sister Kei Shiomi, of Okayama, Japan.
She was preceded in death by her husband, Hideo Suzuki, in 2004. They were married for 35 years.
Memorial contributions may be made to the ALS Association, Oregon and S.W. Washington chapter (700 N.E. Multnomah St., Ste. 1180, Portland, OR 97232), the Parkdale Grange (7300 Clear Creek Road, Parkdale, OR 97041), or to the 4-H program c/o Hood River County Extension Office (3005 Experiment Station Drive, Hood River, OR 97031).
Friends and family are invited to the memorial service and reception on Sunday, March 23, at noon at Anderson's Tribute Center, 1401 Belmont Ave., Hood River, OR 97031. Please visit andersonstributecenter.com to leave a note of condolence for the family.

Condolences are being received online.