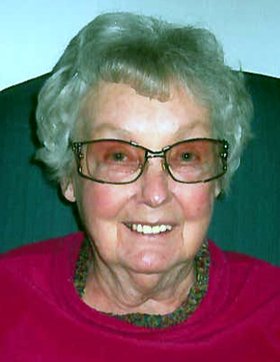 Jean C. Gowing
December 26, 1926 - February 12, 2014
Jean C. (Gramse) Gowing passed away Feb. 12, 2014, in Brush Prairie, Wash., at the age of 87. She was born in Hood River, Ore., Dec. 26, 1926, to Ernest "Larry" and Leita Gramse.
She graduated from Hood River High School in 1944, and then attended the University of Portland's nursing program and where she graduated in 1948 as a registered nurse.
After graduation she lived in Bend, Ore., for a short while and worked at the local hospital.
When she returned to Portland, she worked at various nursing homes as administrator. She eventually purchased the Abbey Hotel, a residential care facility, where she cared for the elderly. After running that for many years she sold the Abbey Hotel and purchased the Perry House, another residential care facility, until she retired.
After retirement she spent several years volunteering helping the elderly in their homes. She enjoyed traveling and spent much of her retirement years seeing various parts of the U.S and world and, and enjoying her grandchildren.
She is survived by her daughter, Lori Buerkle, of Brush Prairie, Wash.; two sons, H. Greg Gowing and James D. Gowing, both of Camas, Wash.; and five grandchildren.
A memorial and interment is planned for this June in Hood River.