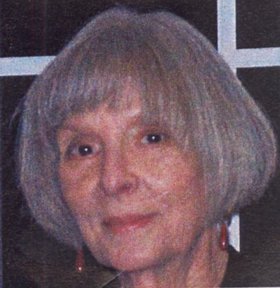 Joan Mason Caldwell
April 19, 1938 - February 22, 2014
Joan Mason Caldwell passed away Feb. 22, 2014. She was born to Maude Bygland Mason and Dr. James Anders Mason in International Falls, Minn., on April 19, 1938, the eldest of five children.
The family moved to Portland, Ore., in 1948, settling in the Overlook neighborhood, and also had a residence at Gales Creek, which she referred to fondly in her last letter as "my true home." She attended Beach School and Jefferson High School, where she was a thespian, artist, student body vice president and May Queen. She was also active in Junior Achievement, where she met the student from Lincoln High School who was later to become her husband.
She attended Wellesley College and Ohio State University, then married John Preston Caldwell, who became an engineer and project manager for Xerox. They had three children and eventually settled near Rochester, N.Y. Joan was active in the community, an early volunteer for Planned Parenthood, and had a long career as an antiques dealer and restorer.
She was known and appreciated by family and friends for her creativity, craftsmanship, resourcefulness, realism, generosity of spirit, personal dignity and ability to survive adversity with grace. Her personal motto was "Expect the best, but prepare for the worst."
She loved celebrations and made birthdays and holidays memorable with her innovative ideas and ingenious touches. Her greatest joy seemed to come from giving others special experiences to savor for a lifetime.
The thousands of letters she wrote to siblings in her meticulous hand chronicled not only the daily challenges and pleasures of her life as a wife and mother, but included as well philosophical musings and observations on the cultural and political changes occurring in the nation — and in recent years touching descriptions of family gatherings; the wildlife passing through her yard; her ongoing landscaping projects; and the grandchildren and great-grandchildren whose visits she so enjoyed.
Joan had successfully weathered a number of physical setbacks, but died unexpectedly at age 75 of a heart attack at home. She is survived by her sisters, Marcia Mason Cook (William P.), of Millstone Township, N.J., and Kathleen Mason Coffey, of Cascade Locks, Ore.; her brothers, James Edward Mason (Heidi), of Roseburg, Ore., and Stephen Anders Mason (Cynthia), of Gales Creek, Ore.; two sons, John Preston Caldwell Jr. and Scott Anders Caldwell (Vicki); one daughter, Jennifer Caldwell Lonardo (Joseph); five grandchildren, Shannon, Emily, Heather, Zachary and Malachi; two great-grandchildren, Lance and Gwendolyn; and eight nieces and nephews.
She was preceded in death by her parents in 1982 and 1984 and her husband in 1989.
Donations in Joan's memory may be made to smiletrain.org or operationsmile.org.
A memorial celebration is planned for the summer of 2014.
Please visit her memorial page at facebook.com/Joan.Caldwell.79827.