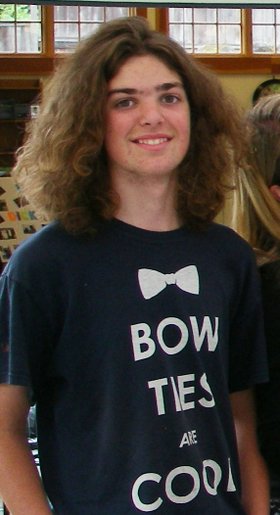 Owen Stolte
May 17, 1999 - March 20, 2014
Owen Stolte, 14, of Hood River, Ore., passed away March 20, 2014, the first day of spring. He was born May 17, 1999.
(Written by Owen's dad): Owen was greatly loved, and left us far too soon. Words are inadequate in expressing his open-hearted kindness, and bright wit and creative inspiration. He was the light of my life, and brought joy to all those who knew him.
Fourteen years is far too short a time to appreciate such a bright and beautiful boy. Even when things got tough during chemo and surgery, he would flash me his big bright heart-warming smile just to let me know he was okay. When I saw that smile I knew I could never give up hope.
Owen was a Hood River local, born right here at home on a warm afternoon in May. He grew up loving everything about the outdoors, especially hiking and later finding and hiding geocaches.
He was so excited when we found the fi9rst original geocache, of course he reminded me that the original was called a GPS stash. He read that if you placed your GPS on the original cache it would make it more accurate. I was doubtful but he insisted it would work.
We would spend days looking for cool spots to hide caches and then try to make a creative way to access the cache, like submerging it in shallow water on Wells Island or in a dark, wet underpass culvert running under 13th Street, or finding the best possible view on Mitchell Point and hiding it in plain sight.
"O," as we called him, always was eager to show me a new tech gadget or a do-it-yourself science project, everything from camera drones, 3-D printing or transmitting a personal FM pirate radio station. The more challenging the better. He always believed in new possibilities.
Owen introduced me to "The Doctor" and we watched many old episodes until we knew the whole back sotry about Daleks, Cybermen and his favorite, the Weeping Angels. "Never take your eyes off of them!" he would say. I hope he is finally living his dream of having great adventures traveling through time and universe.
We are all so fortunate to live in such a caring community. Owen was so happy here, and we are very grateful to be part of all the lives around us. Hug your kids every day.
Condolences are being received online.