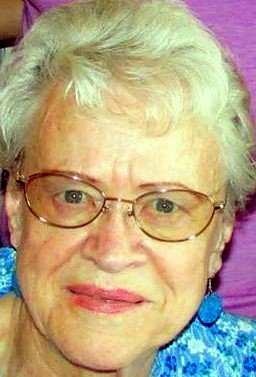 Elmina Rose Fisher
March 26, 1929 - November 21, 2013
Elmina Rose Fisher, 84, died at her son's home in Hood River, Ore., on Nov. 21, 2013. Her husband, Denny, preceded her on March 1, 2009, and now they are reunited.
Elmina was born in La Crosse, Wis., on March 26, 1929, to Lloyd and Pearl (Young) Van Riper. When she was 11 years old, her family moved from La Crosse to Parkdale, Ore., where they owned and operated an orchard. Elmina helped in the orchard driving tractor.
She graduated in 1947 from Parkdale High School (now Parkdale Elementary). During high school, she and her sister Luella worked as ushers at the Parkdale movie theater (now Solera Brewery).
Elmina married Denny Fisher on June 3, 1951, and they made their home in Hood River for the next 58 years. Denny built a gas station at Cascade and Rand, opening in 1953. She assisted him over 50 years as the business evolved into other businesses: Denny's Service, Flying A Service, Phillips 66, Wonder Bread Depot, Denny's Place (a 39-cent hamburger place), Little Bit Ranch Supply with a thrift store and the Greyhound Bus Depot.
She also worked for 17 years as a telephone operator at United Telephone on State Street, retiring in the 1970s when the company did away with the local operators.
In the 1990s, Denny and Elmina spent the winters in Quartzsite, Ariz., for 15 years. While there they helped serve meals to the needy with the Isaiah 58 Project.
She and Denny were active in several local churches in their lifetimes, the last being River of Life Assembly in Hood River.
Elmina's sole focus throughout her life was on her family, close and extended. She is survived by her children, Kirk Fisher (Susie), of Hood River, and Karen Howard, of Parkdale; grandchildren, Becky Ellis (Tim), Jeff Fisher, Erin Kirchem (Andy), Nathan Howard (Liqin) and Scott Howard; and great-grandchildren Brandon and Trystan Fisher and Caroline Kirchem.
She is also survived by her brothers, Wayne Van Riper, of Hermiston, Ore., and Earl Van Riper, of Hood River; sisters Violet Baker, of Hood River, and Blanche Neff, of Bakersfield, Calif.; and numerous nieces, nephews and cousins.
Her parents, husband Denny and sister Luella Herman preceded her in death.
Denny's and Elmina's ashes were placed in the crypt of her parents, Lloyd and Pearl Van Riper, at the Hood River Cemetery Mausoleum, where they may all rest in peace.