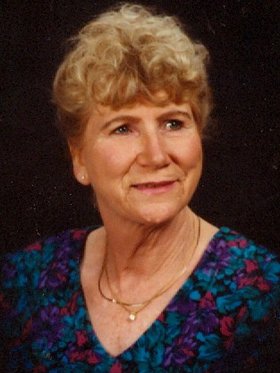 Jewel Johnson
February 11, 1926 - March 25, 2014
Jewel Dean Karns Halvorson Johnson, 88, passed away at Flagstone Retirement Home in The Dalles, Ore., on March 25, 2014.
She was born at home in Wolf Pen Hollow, Campbell County, Tenn., on Feb. 11, 1926, to Emma (Wishoun) and Jess Smith. Jewel traveled to Trout Lake, Wash., to visit an aunt and in 1951 married Carl Karns in Hood River, Ore., where the couple settled.
Carl passed away in the 1970s and Jewel married Carl Halvorson in the 1980s. After the death of Mr. Halvorson, Jewel married Melvin Johnson and moved to Minnesota. Melvin passed away and She moved back to the Gorge area, which she considered her home, to be close to her family.
Jewel had a green thumb and enjoyed gardening. She liked canning, embroidery, dancing and listening to old country music. She was a longtime member of the Hood River Church of Christ.
Her family was the most important thing to her and she will be remembered as a good mother who lovingly raised her seven children and adored her grandchildren.
Jewel is survived by her children, Jim Karns, of Parkdale, Ore., Victoria Kendrick, of Alaska, Connie Dullanty, of Spokane, Wash., Kathy Hendershot, of White Salmon, Carol Dombroski, of The Dalles, and Carl Karns, of Goldendale, Wash.; sisters Doris Ann Miller, of Knoxville, Tenn., and Beulah Parker and Brenda Cole, of LaFollette, Tenn.; 12 grandchildren and 29 great-grandchildren.
She was preceded in death by daughter Karen MacVicker and siblings Glenda Blankenship, Kyle Turner, Melda Williamson, Charles, Retha and Leon Smith and Hazel Saldi.
A funeral service will be held at 2 p.m. at the Hood River Church of Christ, 1512 Tucker Road, on Saturday, March 29. Interment will follow at Idlewilde Cemetery in Hood River.
Please send condolences to the family at gardnerfh.com. Arrangements are under the direction of Gardner Funeral Home, 1270 N. Main, White Salmon, Wash.; 509-493-1323.