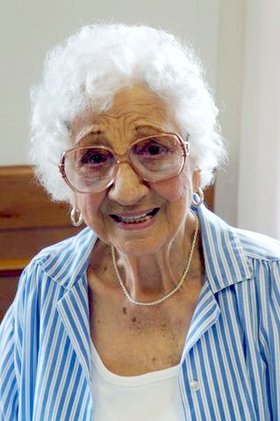 Edith Rose Ellis
September 19, 1914 - May 4, 2014
Edith Rose Ellis, 99, a resident of Hood River, Ore., passed away peacefully at her Hawks Ridge Assisted Living residence on Sunday, May 4, 2014. Edith was born on Sept, 19, 1914, at Dee, Ore., to Antonio Fioretti and Natalina (Bonaduce). The daughter of Italian immigrants, she was raised on an orchard in the community of Parkdale where she attended school and graduated from Parkdale High School in 1932.
Edith was preceded in death by two husbands. She was married to her childhood sweetheart and Parkdale resident, John W. Hardman, in Hood River on July 31, 1933. They moved to Portland and later to Long Beach, Calif. John passed away in 1950.
She later married Alfred B. Haines, of Elkton, Ore., in San Francisco, Calif., on Jan. 30, 1953. Alfred passed away in 1962.
She remained in Long Beach until 2000 when she returned to Hood River at the age of 85 to be closer to her immediate family and childhood friends. She recently moved into an assisted living residence after residing for the past 14 years at Down Manor where she was able to be on her own and live a healthy and fulfilling life alongside friends and family.
Edith worked 20 years as a saleswoman for Sears in Long Beach before retiring. She remained active, volunteering at hospitals in both Long Beach and Hood River until she turned 94.
In addition to traveling, she enjoyed gardening, playing cards and doing crossword puzzles. She was a parishioner of St. Mary's Catholic Church in Hood River.
Edith is survived by her son, John J. Hardman (Elaine), of Hood River; and her daughter, Debra Haines Seccombe (Robert), of Fox Island, Wash. She was blessed with a large family and leaves behind four grandchildren, seven great-grandchildren, and two great-great-grandchildren.
She was preceded in death by three brothers: Frank Fioretti, Chuck Fioretti and Bill Fioretti, all Hood River Valley residents.
The family requests that, in lieu of flowers, donations be made in Edith's name to a charity of your choice.
A mass will be held this Friday, May 9, at 2 p.m. at St. Mary's Catholic Church in Hood River followed by a reception at the church.
Arrangements are under the direction of Anderson's Tribute Center (Funerals, Receptions, Cremations), 1401 Belmont Ave., Hood River, OR 97031; 541-386-1000. Please visit andersonstributecenter.com to leave a note of condolence for family.

Condolences are being received online.