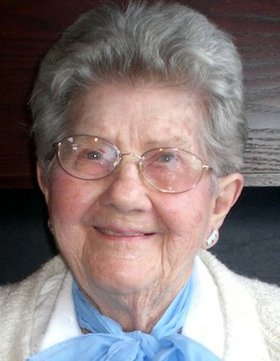 Mabel "Mae" Kniskern
February 24, 1915 - May 8, 2014
Mabel "Mae" Kniskern, 99, passed away Thursday, May 8, 2014, surrounded by those she loved and her care team at Providence Brookside Manor in Hood River, Ore. Mae was born Feb. 24, 1915, in Lesterville, S.D., to Charles C. and Josephine (Stibral) Freidel.
She was one of eight children living on the farm near Yankton, S.D., and attended a one-room schoolhouse until she graduated from the eighth grade. In 1933, at the age of 18, she left the farm and moved to Omaha, Neb., where she opened her own beauty shop. In 1940 she married James F. Burns and two years later a son, Jerry, was born.
In 1944 the family moved to Santa Monica, Calif., where a second son, Tom, was born, and Jim assembled airplanes for Douglas Aircraft during World War II. After the war, Jim worked for Edgemar Dairy in Venice, Calif., until he had a heart attack. Mae took a day job as an electronics assembler at Hughes Aircraft, and Jim also began working for Hughes Aircraft as a supervisor on the night shift.
In 1961 the family moved to Oceanside, Calif., and Mae was hired by Kearfott, a company that built guidance systems for Polaris missiles. Jim passed away in 1965, and Mae continued to work at Kearfott where she was promoted to lead assembler on the guidance system for the Atlas rockets used in NASA moon landings.
In 1978 she met and married Nick Kniskern. They both retired and moved to Hood River in 1980. They bought a home near Hanel's Lumber Mill on Highway 35, where they lived until Nick's death in 1989. Mae moved to her home on Avalon Drive in Hood River.
Her favorite activities were Big Bingo at Hood River Adult Center, counted cross-stitch and other knitting projects.
Whenever someone would treat Mae kindly, she would go home and retrieve a set of hand-knit washcloths, then return and give them to the person who was kind to her. She gave away many washcloth sets because returning kindness was a way of life for her.
She also dearly loved her dachshund, Fritzie, whom she called "my little apple-dumpling."
Mae is survived by her sons, Gerald M. Burns (Rosalie), of Crescent City, Calif., and Thomas J. Burns (Pennie), of Hood River; grandson Mathew C. Burns (Marianne) and great-grandson Daniel C. Burns, both of Pleasanton, Calif.
She was preceded in death by her brothers William, Charles, Emil, Edwin and Ruben Freidel, and her sisters Lillian Stepanek and Grace Jasa.
A service will be held Wednesday, May 14, at 1 p.m. at St. Mark's Episcopal Church in Hood River followed by a reception at the church.
Arrangements are under the direction of Anderson's Tribute Center (Funerals, Receptions, Cremations), 1401 Belmont Ave., Hood River, OR 97031; 541-386-1000. Please visit andersonstributecenter.com to leave a note of condolence for family.

Condolences are being received online.