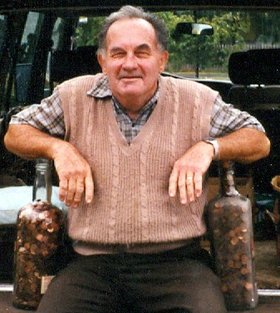 Theodore "Ted" Karl Weber
October 26, 1923 - May 8, 2014
Theodore "Ted" Karl Weber, 90, passed away Thursday, May 8, 2014, at the Oregon Veterans' Home in The Dalles, Ore. Ted was born Oct. 26, 1923, in Odell, Ore., to Walter and Sylvia (Jones) Weber.
Ted was born in the family home on Ehrck Hill Road in Odell, the same property he and his wife, Verna, still reside at today. Ted dedicated his life to the service of others and was very active in the Odell Lions Club, the Odell Odd Fellows Lodge as well as the Hood River Valley Adult Center.
Ted and his brother John owned and operated Weber's Hardware Store in Odell for over 40 years. The hardware store provided not only goods and services but it also provided so many with lasting memories of days gone by.
On April 21, 1973, Ted married Verna Lowell and accepted her eight children as his own. The many large family gatherings were always filled with lots of love, laughter, sharing old memories and planning for new.
Ted was fiercely independent and struggled these last couple of years when his health required more care. Even at the age of 88 he would object if you tried to help while he was push-mowing the yard. He struggled to walk but insisted on filling the Lions mint trays in every local business from Hood River to Parkdale.
Ted is survived by his wife, Verna Weber, of Odell; children Clarence Lowell, of Hood River, Cheryl Krieger, of Odell, Dr. Raymond Krieger, of South Korea, Ruben Krieger, of Portland, Ore., Sharon Slaughter, of The Dalles, Ore., Richard Krieger, of Chillicothe, Texas, Debbie Elliott, of Odell, and Teresa Spratt, of Gatesville, Texas; and many grandchildren, great-grandchildren, nieces and nephews as well as a host of friends he had collected over the years.
He was preceded in death by his parents, Walter and Sylvia Weber; brothers John and Walter Jr. Weber and sister, Lillian Butzin.
Memorials can be made in Ted's name to the Odell Lions Club.
A time to celebrate Ted's life is planned for 1 p.m. Thursday, May 15, at Anderson's Tribute Center, 1401 Belmont Ave. Graveside rites will follow at Idlewilde Cemetery and then a potluck reception at the Odell I.O.O.F Odd Fellows Lodge, 3051 Odell Highway; you are invited to bring a favorite dish to share with family and continue sharing in memories.
Arrangements are under the direction of Anderson's Tribute Center (Funerals, Receptions, Cremations), 1401 Belmont Ave., Hood River, OR 97031; 541-386-1000. Please visit andersonstributecenter.com to leave a note of condolence for family.

Condolences are being received online.