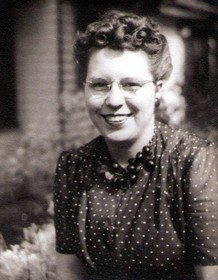 Grace "Marian" Marian Betts
March 11, 1918 - May 12, 2014
Grace Marian Betts, 96, passed away Monday, May 12, 2014, at her home in Hood River, Ore., surrounded by her son, daughter-in-law, great niece, and caregiver. Marian was born on March 11, 1918 to Floyd and Marie (Finley) Cheffings in Portland, Ore.
Marian, an Oregon native, spent her early years on a farm in Aumsville, Ore. After graduating from Jefferson High School in 1937, she earned an associate degree and worked as a secretary for Richfield, a Portland law firm, until she married Eugene Ray Betts in 1946.
In 1968, Marian and Eugene moved to family property at Lincoln Beach just south of Gleneden Beach, Ore., where she was part of the community for over 40 years. She earned the President's Volunteer Service Award from George W. Bush for her thousands of hours of community service.
For the last two and a half years she lived with her son, Thomas, in Hood River where she enjoyed watching her great-grandchildren grow up.
Marian enjoyed playing bingo, cribbage and pinochle, and making greeting cards and jewelry. She was an exceptional gardener and won many blue ribbons at flower competitions for her African violets.
She was preceded in death by her parents and her loving husband, Eugene, in 1990. Marian will be laid to rest at Willamette National Cemetery beside her husband.
Marian will be dearly missed by her only son, Thomas Jay Betts, of Hood River; grandchildren Sarah Jean Ermoshkin, of Ellicott City, Md., and Reuben Arthur Betts, of Hood River; and great-grandchildren Anna Sophia Ermoshkin, of Ellicott City, Md., Nathan Mikhail Ermoshkin, of Ellicott City, Md., Evelyn Grace Betts, of Hood River, and Travis Jay Betts, of Hood River.
Friends and family are invited to a gathering to honor Marian's life and mourn her passing at the home of Thomas Betts, 4207 Sylvester Drive, Hood River, on Saturday, June 14, at 3 p.m.