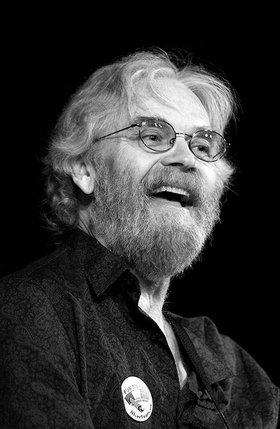 Rick Harold Hulett
July 9, 1952 - April 22, 2014
Ricky Harold Hulett, born to Donna Lee and Jerald Hulett in Lubbock, Texas, died on April 22, 2014, at age 61 after a five-year battle with appendix cancer. He survived by his wife, Sharon, daughter, Hannah, and son, Travis. His sister, Pam Lackey, her husband Jay, niece and nephew Betsy and Michael, and father Jerald Hulett continue to thrive in Texas.
Rick had an outrageous sense of humor and a sharp intellect. He possessed the soul of a preacher in the body of bad-ass guitar player. When he was diagnosed with cancer, he rose to the occasion like a cyclone taking his family and community for a grand ride. His messages were simple: Life should be celebrated and we are all connected in that celebration. Rick did not believe in endings, only transformations.
At 12 years old, Rick's interest turned to guitar and soon grew into a lifelong passion. He formed his first band when he was 13 years old: The Silhouettes. "And we were good," Rick said with a big grin on his face. Since then, there have been countless bands (Joe Ely Band, Cascade Trio, Django's Cadillac, Bigfoot Band, and Bonneville Power Trio) and countless gigs. "Bars are my church," Rick said.
Though music has certainly been the foundation of Rick's life, he was also a gifted engineer. Rick worked at the Guidance Navigation and Control Center at Johnson Space Center after graduating with his bachelor's degree in electrical engineering from University of Texas at Arlington.
Later, he worked for the phone company in Hood River, Ore., for 20 years and got three patents which were, he laughed, "All about how to better display (on demand video) porn on hotel room TVs." Later, he received an MBA from Portland State University while working full-time with a toddler and baby at home.
Rick met his lovely wife, Sharon Steele, on a sailboat in 1983. He was to crew on a race, though his crew-handiness never amounted to much on that trip. He said, "I sat down next to Sharon, we started talking and never stopped." The wind and windsurfing brought them to Hood River, where they married and raised their family. Sailing was another passion of Rick's. He was happiest on or in the water, whether driving or sailing a boat or snorkeling.
Rick was a loving, involved father to his two children, Travis and Hannah Hulett. He spoke lovingly and with great joy about both his children. He described Hannah as beautiful in all ways: intelligent, funny, and full of unicorn glitter. Of Travis he said, "His twinkling, knowing eyes take in more than you think. He seems wise beyond his years. Watching."
Rick believed that death was a natural thing, and though loss was painful, the hurt was the flip-side of joy. He embodied the role of both teacher and student for his family and community. We thank him for that. We thank him for his open sharing, for his huge sense of humor, and for the many gifts he shared with such generosity. We will miss him as we loved him: Deeply and enduringly.
Services celebrating Rick's life are set for Saturday, May 31, at 2 p.m. at Riverside Community Church, 317 State St. Hood River. This will be followed by a New Orleans-flavored Second Line parade with ukuleles, horns, and a life-size cutout of "Tricky" playing his uke. Rick loved it! Bring an instrument, parasol, or an umbrella and join the celebration! Colorful clothes are encouraged.
We will play "When the Saints Go Marching In" in the key of C and "Down by the Riverside" in the key of F. Following the parade, we will gather up our cases, and drive to the Rockford Grange, 4250 Barrett Drive, to make music, share, and celebrate.
The main course will be provided (enchiladas). Please bring a side dish or dessert to share. Please bring nonalcoholic beverages, if that is your beverage of choice. Wine and beer will be available for purchase. No hard liquor.
No beverages or food of any type are permitted upstairs. Parking is in the designated lots. Care must be taken to not block or park on the fire station's paved drive.
If there are questions about the facility, contact Cindy Williams at 541-490-3215. If you would like to assist with food set-up or have questions, contact Marianne Durkan or Jan Thomson at 541-490-4921.
Arrangements are under the direction of Anderson's Tribute Center (Funerals, Receptions, Cremations), 1401 Belmont Ave., Hood River, OR 97031; 541-386-1000. Please visit andersonstributecenter.com to leave a note of condolence for family.

Condolences are being received online.