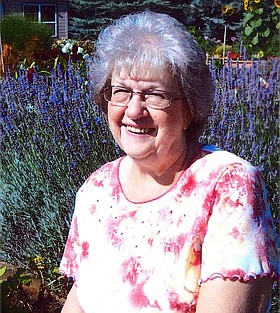 Kay Etola Lee
July 23, 1941 - October 25, 2014
Kay Etola Lee, 73, went home to be with the Lord on Oct. 25, 2014, at her home in Hawks Ridge Assisted Living Community, with her daughter Denise and longtime friend Nita Applegate by her side. Kay was born July 23, 1941, in Fort Scott, Kansas, to Max Kaley and Thelma (Warford) Kaley. They moved to Oregon sometime in the early 1950s.
Kay loved God, loved her family, the Oregon Coast and fishing.
On Sept. 28, 1957, Kay married Troy Lee in Bingen, Wash. They were married by Troy's father, Rev. Albert Lee. Their union was blessed with five children: Hollie Denise, Standley, Lisa Marie, Terrill and Larene. Kay was a homemaker and worked for Diamond Fruit for 35 years until retiring.
Kay accepted the Lord at age 16; from that time on she was a devoted Christian, intercessor prayer warrior, Sunday school teacher. Kay could be found many times in the wee hours of the morning up praying. Raising her children she and Troy spent many summers taking their children to the Oregon Coast. Their favorite place was Bar View Jetty at Garibaldi. She had a great love for the Oregon Coast. After Kay retired she took up fishing and just loved it. She and Troy spent many hours going fishing. Nothing made her more excited than when she out-fished everyone.
Kay's favorite time of the year was Christmas, celebrating the birth of our Savior. She would decorate her house all up with nativity scenes, little villages and angels. Her family looked forward to the fabulous cookies and candies she made at Christmas time.
Kay is survived and will be dearly missed by her children, Hollie Denise (Charles) Johnson, of The Dalles, Ore., Standley (Gayle) Lee, of Hood River, Terrill (Carrie) Lee, of Lancaster, Pa., and Larene Lee, of The Dalles, Ore.; grandchildren Josh (Jeanie) Lee, of Beaverton, Ore., Will (Sarah) Midland, of The Dalles, Steven Williams, of The Dalles, Aaron Lee, of Lancaster, Pa., Chris (Ashley) Lee, of Paradise, Pa., Amy (Clinton) Finkle, of Gardenville, Texas, and Jason Williams, of Texas; great-grandchildren Anthony Williams, Kietra and Charlotte Bartlett, Cody and Cheyenne Williams, V. Jane Bolton, Josiph, Aglarainna, Akaisha, Antastasia and Athena Midland, Vivienne Lee and Kailey Lee; sisters Maxine Long and Mary Lou Richardson; and brother Steve (Marta) Kaley; and many nieces and nephews.
Kay was preceded in death by her husband, Troy; daughter Lisa Marie; granddaughter Yolonda Williams; mother and father Max and Thelma Kaley; and sister Anne Sis Henson.
Kay's last wish was that she sees all of her family in Heaven.
A memorial service with reception following will be held at 11 a.m. Friday, Nov. 7, at River of Life Assembly of God, 979 Tucker Road, Hood River. Viewing will be held at Anderson's Tribute Center, from 9 a.m. to 5 p.m. Thursday, Nov. 6, and 1-5 p.m. Friday, Nov. 7.

Condolences are being received online.