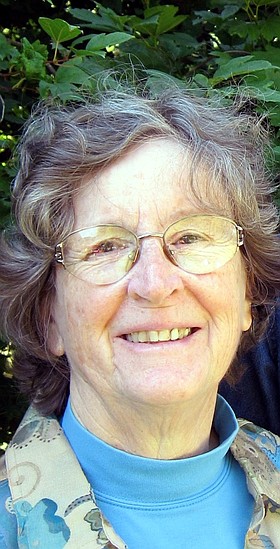 Shirley Ann Karr
August 5, 1939 - October 30, 2014
Shirley Ann Karr, 75, was born Aug. 5, 1939, in Moscow, Idaho, to Donald W. Town and Laura M. (Carlton) Town. She passed away peacefully on Thursday, Oct. 30, 2014. Shirley married Glenn A. Karr on Sept. 25, 1958, in Princeton, Idaho.
Shirley grew up in Moscow, Idaho. After marrying Glenn they moved to St. Maries, Idaho, and started a family together. Glenn worked for the U.S. Forest Service while Shirley worked at home raising their children. They had two sons and two daughters: Vince, Tim, Cindy and Barbara. In 1966 Glenn transferred to work in the Mt. Hood Forest and the family set up residence in Parkdale, Ore.
Shirley was a homemaker when the children were small. She spent hours helping them with school and after-school activities. Glenn and Shirley were involved in all the children's adventures: sports, 4-H, Boy Scouts and Girl Scouts. She began working part-time for the Hood River County Library in Parkdale when they were still in school.
After the kids were out of the house Shirley went to work full-time at the main library in Hood River. She enjoyed her time with the family; sharing history, teaching and making wonderful gifts for them all. Her interests were genealogy and helping others with their genealogy. Some of her other hobbies included quilting, knitting, crocheting, canning, camping, hiking, photography, vegetable gardening and reading.
Shirley was active in her community as a volunteer with so many organizations: Parkdale Community Center, Parkdale School, Wy'east School, Hood River High School, Parkdale Little League, 4-H, Hood River County Fair, Friends of the Library, Hutson Museum, Hood River County Museum, DAR, and the Genealogy Society.
Shirley is survived by sons Vince Karr (Mary) and their son Tracy and daughters Elizabeth, Jessie and JoJo; Tim Karr and his son Aaron and great-grandson Jacksen and daughters Meadow and Haven; daughters Cindy Karr Qualls (Ben), Barbara Karr Durham (David) and their son Kyle; sister Donnie Town Sylvester; sister-in-law Beth Karr Entze and brother-in-law Robert Karr (Linda); and numerous nieces and nephews.
Shirley was preceded in death by her parents, Donald W. Town and Laura M. (Carlton) Town, and her husband, Glenn A. Karr.
A graveside memorial service will be held at the Upper Valley Cemetery on Saturday, Nov. 15, at 2 p.m.
Remembrances may be made to Parkdale Little League, P.O. Box 15, Parkdale, OR 97041, or Friends of the Hood River County Library, P.O. Box 1764, Hood River, OR 97031, or The History Museum of Hood River County, 300 E Port Marina Dr., Hood River, OR 97031.
Arrangements are under the direction of Anderson's Tribute Center (Funerals • Receptions • Cremations), 1401 Belmont Ave., Hood River, OR 97031; 541-386-1000. Please visit andersonstributecenter.com to leave a note of condolence for family.

Condolences are being received online.