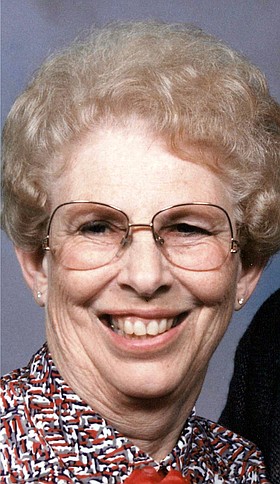 Marjorie Ruth Oates
July 16, 1926 - November 7, 2014

Marjorie Oates, 88, passed away peacefully on Friday, Nov. 7, 2014, at home at Providence Down Manor in Hood River, Ore., with her beloved husband Jimmie holding her hand. He says he was the first to hold her hand, as well.
Marjorie Ruth Frisbie was born July 16, 1926, in Baker Ore., the third child and only daughter of Harold Hamilton Norton Frisbie and Ruth Nell Peterson Frisbie. She joined older brothers Harold and Donnie.
In 1929 the family moved to Hood River, where her father worked as an accountant, eventually opening his own office. Both he and wife Ruth were involved in civic affairs and active in the Methodist church. Marjorie attended local schools and graduated from Hood River High School in 1944. She too was involved, playing clarinet in the school band and lettering in girls basketball. She had the sweater to prove it. In keeping with the Frisbie penchant for numbers and thrift, she became student body treasurer her senior year.
Marjorie had a wonderful photo album in which she documented many friends and activities, all neatly noted in white ink. We see how she spent her summers attending church camp at Suttle Lake. In the late 1930s, it was the place to be. Group photos show large gatherings and the girls standing in front of their canvas tents. It must have been an adventure getting there in the back of a truck with a canvas cover overhead, a wooden ladder strapped on the back to assist getting in and out, and a rope across the back to keep them in. The girls' legs hang out the back waiting for the rig to cool after a roadside breakdown.
There was also Campfire Girls camp on Wells Island. Meetings were well-attended, the girls wearing white shirts and dark neckerchiefs. Later there were native dress outfits. Marjorie served as a counselor at the local Camp Yallani at Green Point. She and her friends walked along the train tracks to Koberg's Beach where she took swimming lessons. It was a favorite spot in the days before Bonneville Dam with a wide sandy beach and a dance pavilion. She loved to swim and in 1942 made a cross-Columbia swim with friends Louise Samuel, Ada Vee, Wayne Webster and his father, Roy. They were accompanied by Jake Samuel rowing a boat alongside. Good thing; Ada needed a ride halfway across. It became an annual event in Hood River.
Lots of time was spent with her good friends Marjorie Duckwall and Louise Samuel. Louise had a horse which was kept in their garage in town. At least once Marjie got on too; there is a photo. Older brother Harold taught her to drive in his car. Growing up in Hood River was full of friends and outdoor activity.
A good-looking boy named Jimmie Oates caught Marjorie's attention early on in high school. On their first date he took her to the movie theater and held her hand. That began a lifelong romance. At graduation the war intervened, Jimmie left to serve in the Navy for three years, seeing action in the Pacific. Meanwhile, Marjie attended Oregon State College in Corvallis, majoring in home economics with a minor in music. She joined Kappa Delta sorority.
In 1947 Jimmie was discharged and returned to Hood River. On July 20 of that year they married at Asbury United Methodist Church.
To make a living Jimmie, his dad, George, and brother-in-law Floyd Dethman went into business together cutting railroad ties on Fir Mountain. Jimmie and Floyd became the D&O Lumber Co, contract loggers working in the Mount Hood, Mount Adams, and eventually St. Helens regions. Marjie worked in the fruit packing house and was bookkeeper for the logging business. No matter the early hour, she always prepared a hot breakfast for Jimmie and sent him to work with a nutritious packed lunch. At least one of her boys insisted on that standard of service too.
Their first son, Gregory, was born in December 1948 followed by Michael in 1952. Their first home on Belmont and Indian Creek Road was built by Carl Kreig using lumber milled from their Fir Mountain property. In 1957 their only daughter, Margaret, was born to complete the family. Marjie devoted herself to homemaking and her family. She was a Sunday School teacher and den mother. Jimmie's sister Mary Jane had married Floyd and sorority sister Naomi Harshbarger married Marjie's brother Harold. Friends became family and remained close throughout the years.
In 1970 Jimmie and Marj bought 40 acres of pears apples cherries and peaches in Odell. They moved into the large farmhouse and quickly adapted to their new orchard endeavors. Picking peaches and selling from the house was a family project. Later apples were for sale, too. Marjorie did a great deal of canning and cider making was an annual event.
Marjorie was Margaret's 4-H leader for cooking and sewing. A large family dinner on Sunday was a regular weekly event. There were lots of trips to the coast, into the woods, picnics, family gatherings, kids' sports and activities to fill the days. The kids were growing up and there was time for square dancing and RVing. Son Greg married Shelley Warren of Portland and settled on a pear orchard in Parkdale. They have three sons. Michael married Kathy Sorensen of Portland. He took over and expanded the home place. They have three children. Margaret married Robert Godard of Corvallis and became a technician for ophthalmologist Dr. Dan Kelly in Hood River. They have two children.
By this time, Jimmie and Marj had a home built just south of Odell overlooking the valley and Mount Adams. Gradually they retired but kept busy. Camping in the Mount Adams wilderness hiking and huckleberry picking with Frisbies, Ron and Voncille Armstrong, Myrna and Merle Debolt, Jim and Ruth Sorensen and Jim and Marge Edens were frequent events. Razor clamming on the Washington coast was an annual trip. Eight grandkids began arriving: Jackson, Alex, Spencer, Sarah, Lisa, George, Corinne, and Jimmie. When the grandkids were old enough they also took turns going along. Marjorie attended many sporting events for the grandchildren. Winters were free for RV trips to Brookings with many of the same. Eventually Arizona became their winter destination.
In later years, Marjorie's health declined and she relied more and more on Jimmie. He remained devoted to her and made her final years safe, comfortable, and happy. Despite the ravages of Alzheimer's, Marjorie remained the sweet and caring woman she has always been. She was a loving wife, mother and grandmother. She was the dearest of mothers-in-law.
Marjorie was an active lifelong member of Asbury United Methodist Church. She made the transition to partnership with Our Redeemer Lutheran with an open heart. She quietly lived her Christian values and set a standard for the family. Memorial gifts may be made to her church, Asbury Our Redeemer Partnership (AORP) in Marjorie's name to assist in moving the Asbury church bell to its new home on Tucker Road.
A memorial service is planned for 2 p.m. Saturday, Nov. 15, at Our Redeemer Lutheran Church, 1140 Tucker Road, Hood River, OR 97031.
Arrangements are under the direction of Anderson's Tribute Center (Funerals • Receptions • Cremations), 1401 Belmont Ave., Hood River, OR 97031; 541-386-1000. Please visit andersonstributecenter.com to leave a note of condolence for family.

Condolences are being received online.