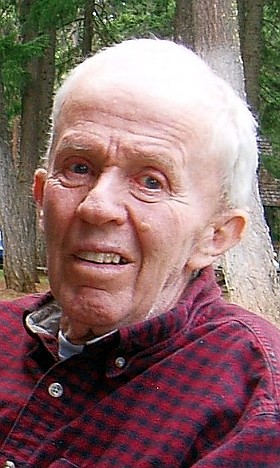 George "Tommy" Marsh
October 23, 1931 - November 18, 2014
George "Tommy" Marsh, 83, passed away Nov. 18, 2014, at his home in Dufur, Ore. George was born Oct. 23, 1931, to Uncas and Edna (Huskey) Marsh. Growing up, he lived much of the time with his grandparents Bill and Elsie Marsh and spent time with his grandparents George and Grace Huskey.
Tom loved trains. As a young boy, he occasionally accompanied his grandfather, George Huskey, a watchman for the railroad. Tommy soon learned about trains, timetables, types of trains and their cars. He could identify any train, recite its schedule, and identify which train was expected next through the Gorge. He loved sitting on the bluff overlooking the train tracks; watching trains as they traveled up and down the Gorge past his grandparents' place in Mosier.
Tommy loved to ride his bike and found a measure of independence. He would ride his bike from his home in Mosier to The Dalles over Sevenmile Hill Road and back; for a time when he and his dad lived in The Dalles, he would ride up Sevenmile Hill Road to Mosier and back to visit his grandparents. In later years, his grandmother Elsie, would often take him into The Dalles where he spent time visiting with many friends.
Tommy, a great storyteller, was a prolific collector and storehouse of information. Until just a few years ago, Tom could recite birthdates, death dates, and dates of significant events for many local residents --especially those who lived in Mosier during the time he lived in Mosier -- spanning the time from his birth to the early 1990s when he moved to Hood River. Tom knew and could name every Mosier boy who served in World War II, their branch of service, rank and other pertinent data. He recalled word-for-word advice and wisdom his grandmother Elsie shared with him.
Even after he moved to Hood River, he continued to follow news of Mosier residents. He was well-known in the Hood River community as he rode his bike and walked the streets visiting with people he knew.
A number of years ago, Tommy moved to The Dalles to live with Diane and Lee Sasa. They welcomed Tommy into their home, treating him with great love and compassion. Laurie, another guest in their home, and Tommy, became great friends; he always called her "sweet Laurie," accompanied with his big smile. Right up to the end he would perk up when "sweet Laurie" walked in the room.
Tom went on many excursions with Diane and Lee, including many trips to the coast. When they moved to Dufur, Tommy moved with them. Just a few years ago, they took Tommy on his first plane ride, a trip to Cherry Valley, Calif.
Tommy, a longtime member of the Wasco County Pioneers, enjoyed attending their annual meeting, visiting with friends. Tommy's family has deep roots in Wasco County. Tommy's great-great-grandfather Josiah Marsh took up a donation land claim near Rowena in 1854. His great-grandfather Andrew Marsh married Amanda McClure; their son William A. Marsh, Tommy's grandfather, married Elsie Middleswart and they had three children: Bessie, Charles Uncas (Tommy's father), and William Franklin. Uncas married Edna Huskey and they had two children: George Thomas (Tommy) and Geraldine. His great-grandparents Albert and Matilda Huskey homesteaded in Mosier in 1874. His grandparents George Huskey and Grace Kimbrough lived in Mosier and in the valley down around Waterloo, They had two children, Paul and Edna (Tommy's mother).
Tommy was predeceased by his grandparents Bill and Elsie Marsh and George and Grace Huskey; parents Uncas and Edna Marsh; sister Geraldine Harvey; uncles Frank Marsh and Paul Huskey; and aunt Bessie Marsh.
Tommy is survived by his nephew Wayne Harvey and his wife, Darrin, of Salem, Ore.; great-niece Michelle Barrett, of Salem; first cousins Norma (John) Fuller, of Reedsport, Donald (Rose) Huskey, of Moscow, Idaho, and Donald (Pam Starling) Marsh, of Mosier; along with numerous other cousins and friends.
A memorial service will be held at 11 a.m. Friday, Dec. 5, at Anderson's Tribute Center.
Arrangements are under the direction of Anderson's Tribute Center (Funerals • Receptions • Cremations), 1401 Belmont Ave., Hood River, OR 97031; 541-386-1000. Please visit andersonstributecenter.com to leave a note of condolence for family.

Condolences are being received online.