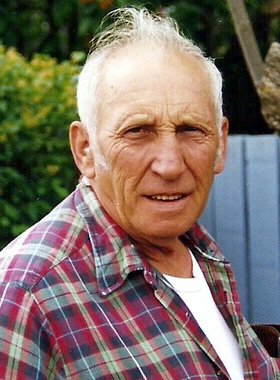 Donald Clayton Smith
September 13, 1932 - October 19, 2014
Donald Clayton Smith, 82, passed away at his home in Pine Grove, Ore., on Oct. 19, 2014. He was born in Portland, Ore., on Sept. 13, 1932, to Rosie (Goetzen) and Ted O. Smith.
Don was a hard worker and lived a very full life. At age 15 when his father had a stroke, he quit school to run the family's wood business out of Dufur. He also helped his father build a log cabin in The Dalles, was a logger, a log truck and long-haul truck driver, a mechanic, a heavy equipment operator, a lead contractor, ran the Mosier gas station, built and raced stock cars, served six years in the National Guard, helped work the family dairy farm, and earned a degree in electrical engineering.
His loves, interests and hobbies spread wide with family, hunting, socializing, storytelling, playing music with family and friends, flying airplanes, racing cars, and so, so much more. He was a colorful story teller with many fascinating (a lot of times humorous) stories to share. He was an amazing man in his own right.
He married the love of his life, Juanita May Gibbons, on Oct. 10, 1953, in Dufur, Ore. Their first kiss and official meeting was after he'd won one of his stock car races and she was the "trophy girl." After almost 40 years of marriage, she preceded him in death on Aug. 25, 1993.
Through the last year Don enjoyed watching TV, feeding birds, ducks and geese, eating a good hearty meal, taking car rides, racing the electric store carts while shopping, listening to his Honkey Tonk Tavern music each night at bedtime, and spending each day with his loyal companion and best friend, Buck. He also cherished the wonderful support team of the Hood River Heart of Hospice, which he added to his heart as family. (A very, very special thanks to Tawsha, Bobbi and Clyde.)
Donald is survived by his brothers, Burt Smith (wife Corrine) and Farrell "Spud" Smith, all of Boise, Idaho; children and their spouses Robin Allen (Mike), of Parkdale, Jeff Smith (Camillia), of Irving, Texas, Jody Lamoreaux (Scott Gilkerson), of Hood River, Jason Smith, of The Dalles, Heather Muma (Mike), of Hood River, and Matt Smith (Julie), of South Beach, Ore.; 18 grandchildren and 12 great-grandchildren, and numerous nephews and nieces.
He was preceded in death by daughter Kimberly Fay Smith, who passed away in 1970 at age 14.
A graveside memorial service was held on Oct. 24 at the Mosier Cemetery. Gardner Funeral Home handled cremation arrangements.