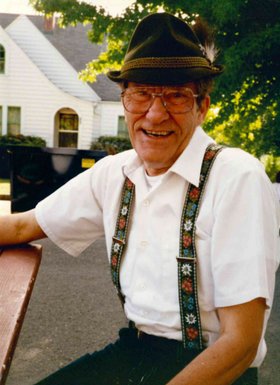 John "Jack" Joseph Johnk
December 30, 1924 - August 29, 2014
John Joseph "Jack" Johnk, 89, of Salem, Ore., loving father, big brother and friend, passed away peacefully on Aug. 29, 2014, after a courageous battle with cancer. He was born in Sioux City, Iowa, on Dec. 30, 1924, to Mary Margaret (Bollig) and John Henry Johnk. John was the first of three children with sisters Mary JoAnn and Marcelene Rose.
At a young age, John moved to Oregon and eventually the family found their home in Hood River. John was inducted into the U.S. Army in July 1943 and served in the Pacific theater during World War II. He was honorably discharged in February 1946.
John remained in the Army reserve, but his love of country and the military drew him back to join the U.S. Marine Corps in 1950 and serve in the Korean War. He was honorably discharged from the Marine Corps in 1953 after reaching the rank of sergeant. John continued his military service with the Oregon National Guard for 20 years.
After the Marine Corps, John returned to Hood River and found a career with the U.S. Postal Service. In 1956, he married Edith M. Tennant and raised two sons, Doug and David. He retired from the USPS in 1980.
Throughout John's life, he was an active outdoorsman. He enjoyed fishing, hunting and camping. Most of all, he enjoyed being involved with and following his sons' sports activities.
John was also a big Oregon Duck fan, especially football. He was happiest watching the Ducks and eating his favorite snacks: sardines, cheese, crackers and sausage. It was a good day when the Pac 12 (Pac 10) cable channel began broadcasting.
John loved to dance. Whether it was the polka, waltz or two-step, John could dance them all and not many ladies could keep up with him. He was a regular at the Mt. Angel Oktoberfest.
John is survived by many family members. His two sons and their wives: Doug and Kristen Johnk, of Keizer, Ore., and David and Jamie Johnk, of Molalla, Ore.; his younger sisters, Mary JoAnn McGrath, of Roswell, N.M., and Marcelene Todd and her husband, Steve, of Salem, Ore.; grandchildren AJ, Connor, David and Jennafer; and great-grandchildren Anthony, Amelie and Arya. He is also survived by his ex-wife, Edith Johnk, longtime companion Ruth Arnold, and special friend Lorraine Halter.
A service was held Wednesday, Sept. 3, at St. Edwards Church in Keizer, Ore. In lieu of flowers, contributions are suggested to a reputable veterans organization.
Arrangements are under the direction of Keizer Funeral Chapel & Cremation Services, 4365 River Road, N. Keizer, OR 97303. Please visit keizerchapel.com to leave a note of condolence for family.