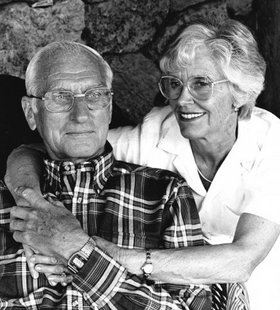 Wally Stevenson
August 26, 1918 - August 29, 2014
Priscilla and Wally Stevenson died as they had lived for 73 years, together. Priscilla died on Thursday, Aug. 28, 2014, and Wally on Friday, Aug. 29, 2014. Both were at home in White Salmon, Wash., amidst family and friends. Priscilla would have reached age 96 on Sept. 23, and Wally was well enough to enjoy a bit of berry pie and ice cream on his 96th birthday, three days before his death. Their 73rd wedding anniversary was honored in their memory on Aug. 30.
They were a remarkable couple: strong, accomplished and generous people who valued their marriage and family above all else.
Priscilla Brown Stevenson was born Sept. 23, 1918, in Seattle, Wash., the second of seven children in Richard and Dorothy Brown's large, loving and lively family. As the eldest daughter, Priscilla took on many household and child-caring responsibilities, which perhaps account for the ease, skill and enjoyment she later displayed as a mother and homemaker. She was an excellent student who majored in art and graduated from the University of Washington with honors in 1940. She had little time to paint or draw in her busy life, but her creativity was evident in all she made and did.
Priscilla worked tirelessly and cheerfully all her life: as a mother and a friend, in her home, as a community leader, as a volunteer and board member, as a gardener. She took care of people. She was a very good cook who could turn out a meal for two or 20, depending on how many turned up to eat. She was beautiful, but wore her beauty quietly. Ever elegant, ever gracious, ever kind, Priscilla was a lady of first order.
Wally Stevenson was born in Klamath Falls on Aug. 26, 1918. He was the fifth of six children born to Angeline and Donald M. Stevenson. The family settled in Portland around 1920, when Wally's father began half-ownership of Broughton Lumber Company in the Columbia River Gorge. The family spent every summer at camp in the logging and mill community of Willard, Wash., where Wally and his brothers learned the work that would later become their chosen careers. Wally graduated from University of Washington in civil engineering in 1940.
As a Naval ROTC student, Wally's first midshipman cruise became part of the historic search for Amelia Earhart's missing plane.
Soon after Wally and Priscilla married in August 1941, Wally was called up for active duty. At age 24, he became captain of his first ship, a converted cannery vessel that searched the Bering Straits for enemy submarines. A year later he took command of a new submarine chaser, with a green crew of 65. The PC-1232 first served as a convoy escort between New York and Cuba, and then escorting older ships across the Atlantic for use by the British navy. Wally's ship was part of the immense D-Day invasion in June 1944; its month-long mission was to rescue, patrol, screen and convoy two beachheads on the Normandy coast. Wally received a Bronze Star for meritorious service. Priscilla joined Wally whenever possible during the war years, living briefly in Alaska, Miami and New York. Their first two sons were born during this time.
After the war, Wally, his brother Bruce and Frank Daubenspeck bought a bankrupt mill on the Columbia River in Bingen, Wash. They named it SDS Lumber Company. Wally and Priscilla settled in White Salmon, Wash., and in 1950 built a house on the Columbia River bluff for their family of three sons and two daughters.
They lived in their house for 64 years and there they died.
At the start, SDS bought all their logs and all three partners worked full-time in the mill. Gradually they began buying timberland close to the mill, harvesting smaller logs to cut a fine grade of construction lumber, and selling their larger, higher-grade logs. That business practice is the same today, and most SDS timberland lies within a 35-mile radius of the mill. Wally's special interests were running the business, acquiring timber, overseeing woods operations and selling lumber. SDS thrived and grew.
The lumber industry faltered during the 1980s from new forest protection laws and stricter logging practices, and many small mills closed. SDS survived by taking innovative steps toward using all wood byproducts and making progressive changes in operating practices. A new computer-run stud mill was built that doubled the board feet of lumber produced by earlier SDS sawmills.
Beginning in the 1980s, Wally expanded his business interests and enjoyed partnering in new ventures in real estate and hotels that included The Heathman in downtown Portland and The Heathman Lodge in Vancouver.
While Wally was active in the outer world of business, Priscilla was working just as hard in the world of family, home and community. They were equals in strength of character. They shared a strong work ethic, a firm moral code and qualities of loyalty, honesty and generosity. They shared a love of sports and outdoor activities; they were avid skiers, tennis players, hikers, boaters and golfers. They had huge and beloved families with whom they traveled and socialized. They had many friends and they had a lot of fun.
Priscilla and Wally lived the American dream in many ways, but also suffered loss and deep sadness, particularly in the deaths of two sons. They grieved, but never knew self-pity. They never complained, they never stopped living fully, they carried on. They were open in expression of love and respect for one another. Mentors, role models, paragons, they were above all partners in life and love for 73 years.
Priscilla and Wally Stevenson are survived by their son Wesley and his wife, Jamie; daughter Peggy Ohlson and her husband, Jon; daughter Bernice Bean and her husband, Warren. Their son Bruce died in 1997, and their son Mark died in 2013. They will be missed by their 12 grandchildren and nine great-grandchildren.
Wally is survived by his brother Rees and sisters-in-law Eloise and Jean. Priscilla is survived by her brother Webster Brown.
A memorial service and reception will be held on Sunday, Sept. 14, at 2 p.m. at Wind Mountain Ranch, 192 Erickson Road, Stevenson, Wash.