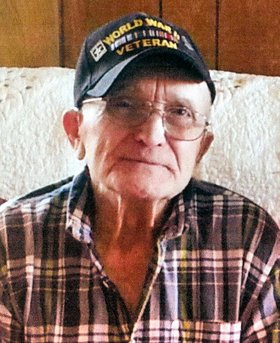 Charles "Bud" W. Parsons
February 10, 1922 - September 11, 2014
Charles (Bud) W. Parsons passed away on Sept. 11, 2014, at home surrounded by his loved ones. Bud was born Feb. 10, 1922, in Holmesville, Ohio, to Forrest and Esther Crawford Parsons. He married Helen Smith on June 29, 1950, in Rittman, Ohio.
He and Helen had four children: Dolores, Chuck, Ted and Dianna. They lived in Ohio until 1968. They moved across the U.S., working in various places until they settled in Hood River, Ore., in 1969. Bud worked in the fruit industry until he began working at SDS Lumber, where he eventually retired.
They spent their early retirement years traveling around the United States, visiting nearly every state in their travels. Watching baseball was a favorite for him. He loved his Mariners and the Atlanta Braves.
Family was very important to Bud; he had his best times telling stories and he always loved having the little ones around. There were always plenty of kids around for him to enjoy. He had 18 grandchildren, 29 great-grandchildren and one great-great-grandchild.
Bud served in World War II in the European theater and left the service at the end of the war as a sergeant.
Surviving him is his wife of 64 years, Helen; daughter Dolores and her husband, Glenn, of Odell, Ore.; son Chuck and his wife, Vickie, of Lyle, Wash.; son Ted and his wife, Martha, of Appleton, Wash.; and daughter Dianna and her husband, Tom, of Killbuck, Ohio; sisters Monabelle Fortune, of Shreve, Ohio, and Faye Leckrone, of Wooster, Ohio; brothers Leland Parsons, of Ravenna, Ohio, Larry Parsons, of West Virginia, and Forrest Parsons Jr., of Gainesville, Fla.
He was preceded in death by sisters Esther Maxine Jarvis and Marie Luft and brother Ray Parsons.
A visitation will be held at Gardner Funeral Home in White Salmon on Thursday, Sept. 18, from 5-7 p.m. A graveside service will take place at Idlewilde Cemetery in Hood River on Friday, Sept. 19, at 2 p.m. Gardner Funeral Home is handling arrangements.