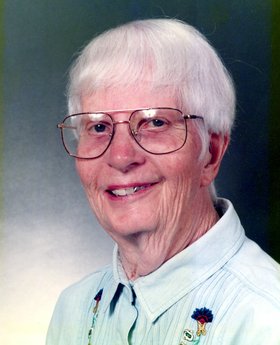 Lucile Annette Wyers
August 23, 1916 - September 4, 2014
Lucile A. Wyers passed away Sept. 4, 2014, at her home in Hood River, Ore. Lucile Annette Bachman was born at home in the St. Johns section of Portland, Ore., on Aug. 23, 1916. She was the youngest child of Alice May (Mixson) and Royal Obed Bachman, who had moved from a farm in Michigan with their son Julian and girls Elinor and Miriam.
Lucile attended schools in Portland and Seattle but graduated from Salem High School. Her eighth grade was spent in Hood River, when she lived with Elinor and her husband, Teunis Wyers. During 1935 Lucile was again in Hood River helping Elinor, who had an appendectomy during her pregnancy. Karen was born Feb. 22, 1936. In September 1936 Elinor died.
Lucile attended the University of Oregon, where she pledged Zeta Tau Alpha and founded a women's rifle team. She was a nursing student at Oregon Health and Science University the next fall quarter. Teunis Wyers and she were married Dec. 18, 1937. The next year they installed electricity and city water at Windswept. Their son Jan was born in 1939 and their second son, Teunis, was born in 1946.
Her father-in-law, John Wyers, gave them a cow. Lucile raised chickens and the family butchered a pig every fall. They had an acre of garden and Lucile baked bread, churned butter, and canned and froze most of the family's food, including the venison she, Teunis and the boys provided from annual hunting trips. She got her last buck at the age of 75. She also made feather pillows after Teunis Sr. brought home seven geese from Klamath Falls. Teunis died in 1976.
Lucile was active in the League of Women Voters, Order of Eastern Star, the PTA at Frankton Grade School and Wy'east High School, St. Mark's Episcopal Church, the Episcopal Church Women of Eastern Oregon, Hood River County Democratic Party, the Rockford and Pomona Granges and the Urban League. She also joined in protests against nuclear power and in peace protests, and marches for women's equality and the Right to Choose in Portland.
She believed in racial inclusion, following the example of her ancestor Harriet Beecher Stowe. In 2009 Lucile recorded her memories, which were gathered in an autobiography titled, "A Life Worth Living." She campaigned door-to-door for her son Jan.
Following an uprising in Cambodia, she and Teunis sponsored Chay Born Lai, who had lived with them as an American Field Service high school student. He brought to Hood River his wife and family, and three cousins, to live at Windswept.
Lucile was a leader of 4-H clubs and Camp Fire groups. Every night she read to her children and grandchildren. Later she delighted them all by reciting many of the poems at family meals. She and Teunis sought new information all their lives and actively encouraged curiosity in their children.
Over the years she drove others to church, political gatherings and meetings. Many shut-ins and those who were ill received her bread, butter or fresh vegetables from the garden. She did not discard things; she patched them or gave them to someone who could use "one." She was too feisty and opinionated to be a saint, but she "did good" for 98 years.
Lucile is survived by her sons, Teunis and Jan Wyers, and daughter, Karen Robertson; grandchildren Teunis G., Johanna and Juliet Wyers, Giselle Rice, Martin Easley and Beth Weis; great-grandchildren Samantha and Shelby Easley, Lilliana Wyers, Mary Sekavec, Heidi Kordosky and Calvin Rice; great-great-grandchildren Jacob and Kylie Sekavec; and cousins Elinor de Arcy, Gordon Smith and Joan Willet.
A remembrance gathering (potluck) will be held at 2 p.m. Sept. 27 at the Rockford Grange Hall in Hood River.