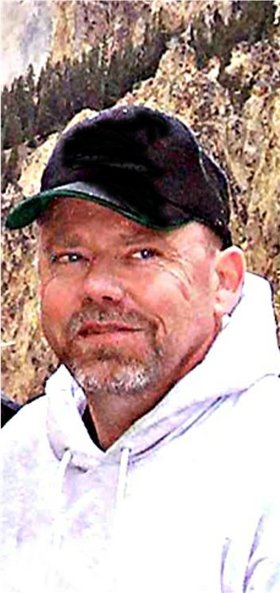 Russell "Rusty" Dale Haskins
March 2, 1959 - September 15, 2014
Russell Dale "Rusty" Haskins celebrated new life on his reception into Heaven Sept. 15, 2014, surrounded by family and friends when he passed from the earthly life. Rusty was born March 2, 1959, to Wes and Shirley (Sherill) Haskins.
The first of three children, he grew up on the family farm in Merrill, Ore. He graduated from Lost River High School in 1977. In 1978 he began a career that spanned 30 years, first with United Telephone as a lineman and ending with CenturyLink as a senior engineer.
In April of 1980, Rusty married Cherrie Grounds and together they had three children.
In 2000 his family was complete when he married the love of his life, Mary Doroski, and welcomed her daughter as his own. Their happiest times together were spent riding ATVs on the sand dunes of Oregon, Washington, California and Idaho with their dunes family and listening to radio classics while traveling. Rusty instilled a spirit of perseverance in all four of his children that has passed on to all five of his grandchildren. He will be greatly missed by his earthly family.
Rusty is survived by wife Mary Haskins; father Wes Haskins; daughters Heather (and Lance) Waack, Jennifer Haskins, and Lindsay (and Danny Gilkerson) Borg; son Christopher (and Katie Pritchett) Haskins; sisters Lori (and Mike) Lampkins and Sharon Haskins; brother Bill (and Mary Smith) Haskins; grandchildren Aireal, Annabelle, Raegan, Bennett and Remi; nephews Travis, Ryan, Johnny, Michael, Kev, Cody and Donovan; and nieces Rachel, Kira, Cora, Keisha and Julie.
Rusty is also survived by Kevin and Beth Ann Doroski, Daryl Doroski, Keith and Isabelle Doroski, Susan Doroski and mother-in-law Betsy Doroski, and his "Dunes Family:" Clinton and Pixie Bryan, Rick and Bonnie Breedlove, Lance and Leah Tillotson, Stephanie and Micah Lee and their daughter Violet, as well as many more extended family, friends and his beloved dog Hemi.
He was preceded in death by his mother, Shirley Haskins.
A celebration of Life will be held at 4 p.m. Sept. 27 at Anderson's Tribute Center, 1401 Belmont Ave., Hood River. A memorial service will be held at 9:30 a.m. Oct. 17 at the Merrill Presbyterian Church, 210 W. Second St., Merrill, OR 97633.
The family asks that you donate to the American Diabetes Association (diabetes.org) or the Juvenile Diabetes Research Foundation (JDRF.org) and support the local diabetes walk of your choice in memory of Rusty.
Arrangements are under the direction of Anderson's Tribute Center (Funerals, Receptions, Cremations), 1401 Belmont Ave., Hood River, OR 97031; 541-386-1000. Please visit andersonstributecenter.com to leave a note of condolence for family.