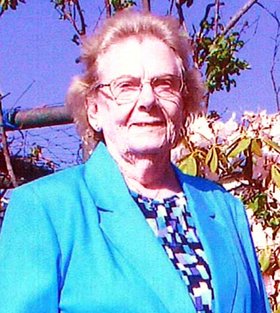 Betty Muriel Packer
June 25, 1932 - September 18, 2014
Betty Muriel (Farris) Packer, 82, passed away peacefully Sept. 18, 2014, at her home of more than 60 years with her loved ones by her side. Betty was born June 25, 1932, in Tahoka, Texas, to Bill and Ida (Crouch) Farris, the second of four children.
Betty spent her early childhood in the Texas panhandle, where her father followed work during hard times, causing the family to move often. They settled in Hood River, Ore., when Betty was 11, and she lived the rest of her life in the Hood River Valley. She attended Barrett School and graduated from Hood River High School (now Hood River Middle School). She was a good student and loved school. She was an avid reader all of her life. She loved reading to her children, grandchildren and great-grandchildren.
She met Donald Packer, from rival high school Odell, and they married on Aug. 19, 1951, in Stevenson, Wash. They moved into the house and orchard on Willow Flat where they were to live together for the next 61 years. They purchased this house and orchard from his parents a year later and started their own family. Over the next 10 years Peggy, Margie and Sally were born.
Betty was active in the PTA (Parent Teacher Association) for many years and served as chairperson for many years as well. She was a volunteer when voting booths were still used, checking in the voters for the district and later counting ballots and verifying names. Betty was a 4-H leader for many years, teaching cooking and sewing to many little girls.
Betty was a gifted photographer; she developed her own photos in the darkroom Don built for her. She also hand-tinted black-and-white photos, a lost art, and in the age of black-and-white photography brought life to many wedding, graduation and anniversary photos. She extended this love of photography by managing the photography department at the Hood River County Fair for many years, taking many photos for use in the fair book.
Betty could often be found helping out in the family orchard changing sprinklers, thinning, picking, collecting tickets and picking bins for culls. She was the bookkeeper for the orchard, their construction company and the family trucking company. Mom was the co-pilot for Dad while they hauled everything from fruit to wheat up and down the West Coast for many years.
Betty was always interested in learning new things. She loved working with her hands and made beautiful afghans, slippers, baby blankets, needlepoint and embroidery. She was a gifted seamstress, sewing most of her daughters' clothes for school until they were old enough to sew their own. For her oldest granddaughter, Tenille, she made the wedding dress and all of the bridesmaid dresses. As recently as a year ago she was still sewing wedding party clothes for her grandchildren. She was very eager to learn computer skills and did not hesitate to set up the company accounts on her computer as soon as she could. She even had a Facebook account before some of her grandchildren!
In 1998 Betty and Don bought their winter home in Salome, Ariz. Betty loved the peacefulness, the rugged mountains and the spectacular sunsets. All were food for her soul and her photographic talent. She always claimed she would love to spend the entire winter in Salome, but Don liked to travel home for Christmas. Betty's idea of a simple Christmas was a little finger food – a 15-pound turkey, 5 -pound ham, dinner rolls, potato salad, green bean casserole, sweet potatoes, relish dishes, four kinds of homemade pie, chips, dip, homemade candy and more — just something simple.
Betty is survived by daughters Peggy L. Packer, Margie Loomis (Bill Broderick) and Sally Packer-Akin (Richard); grandchildren Tenille Hilton (Todd), Jamie Loomis (Karen), Amy Marquez (Adolfo), Brandon Loomis, Chrystal Akin-Bruce (Bryan) and Eric Akin (Tami); sisters Thelma Halverson (Lyle) and Linda Hansen (Jim Parrish); great-grandchildren Toby Hilton, Jocelyn Marquez, Dillon Loomis, Karyna Marquez, Rylee Akin, Dilan Spies, unborn baby Akin and many nieces and nephews.
Betty was preceded in death by her husband of 61 years, Donald Packer; parents Bill and Ida Farris and her brother M. Glenn (Sonny) Farris.
"I cried when you passed away, I still cry today
Although I loved you dearly, I couldn't make you stay
A golden heart stopped
beating. Hard-working
hands at rest
God broke my heart to
prove to me He only
takes the best"
Services are planned for 11 a.m. Sept. 27 at the Odell Methodist Church, 3422 Odell Highway, Odell, Ore. Interment will follow at Idlewilde Cemetery. Viewing is scheduled for Thursday, Sept. 25, from 9 a.m. to 4 p.m. and a time to visit with family on Friday, Sept. 26, from 4-6 p.m. at Anderson's Tribute Center.
Memorials are encouraged to be made in Betty's name to the American Cancer Society.
Arrangements are under the direction of Anderson's Tribute Center (Funerals – Receptions – Cremations), 1401 Belmont Ave., Hood River, OR 97031; 541-386-1000. Please visit andersonstributecenter.com to leave a note of condolence for family.

Condolences are being received online.