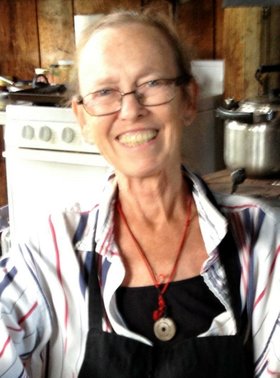 Toni Sarabeth Docken
unknown - April 21, 2014
Toni Sarabeth (May) Docken was my sister, Toni May (a.k.a. Tone Bone, TB, and I just can't remember her other names). She loved me as her baby brother and that relationship never ceased. The only anger I ever had for her was when we were both in high school and she repeatedly took my shirts and wore them to school, a "high crime and misdemeanor!" On the other hand, Toni was my first dance partner — we really showed off at school dances! Oh, the only time she got mad at me (as I remember…) was when it was her turn to wash the dishes and my turn to dry them — you see, I was sooooo efficient at drying that she just never could get a collection of dishes in the drain board. (Toni really had a "pride" problem and "I" could really see it! It became embarrassingly obvious in competitions; I mean experiences like dish washing!!!) Toni was a GREAT person to talk to. She was smart, and when she entered into dialog about some issue, she was someone to whom it was well worth listening. Toni went to Oregon State University, earned a BS and became a medical technologist, which she could use anywhere, wherever she had a financial need to earn some money. Otherwise, Toni invested herself into people instead of a career as evidenced by her entry into the Peace Corps in Malaysia after college.
At this point, I must spring forward to a time when Toni found herself in a small, isolated home in the deep woods of Maine in about three feet of snow and many miles per hour of bitter wind. She had the company of a perfect human match known as Paul Docken, my brother-in-law, her God-given, life-saving, warming husband, adventure partner, and muscle for chopping trees and building their home on 100 acres of beautiful, pristine interior-Maine property. Hmmmmm – beautiful! I can say so much more about this dear human being, woman, mother of Dulcy (a beautiful woman in her own right patterned very much after her mother), and sister. Thank you God for my sister Toni who left us Monday, April 21, 2014, after a battle with a very rapidly developing cancer. Thank you Toni for your love! "Holy Father, bless my brother-in-law, Paul, my niece Dulcy, and Toni's relatives and many friends as they travel on without her colorful presence. A-men!"
Our brother Philip remembers his sister this way: "Toni was always my older and wiser sister, a description that didn't change even as we all got older. But the day I almost burned down the fir trees in our pasture while playing with matches I found that she was also tough. She helped put the fire out. Then when I asked if she was going to tell Mom and Dad, her terse reply was simply, 'No! You are.' And I did. But her caring side is what I saw the most. She was nine years my senior and when she came home from Oregon State on weekends she often took me bowling at Orchard Lanes. That was pretty cool for a 10 to 12-year-old. She made me feel very special."
Ernestine (Tink) Messick, our sister from Oregon, remembered the time when in the vicinity of Tucson, Ariz., she and Toni were especially close in their relationship. Tink said that Toni was amazing in her ability to take whatever was around and turn it into a delicious meal. Tink said: "This could happen without any advance notice. Preparing food was a really special thing to her and she excelled there and loved sharing the result with others." Toni's culinary abilities were more than a talent, they were a gift. In her home in Maine, Toni cooked on a wood stove for years and finally transitioned to propane. Her meals on either were masterpieces!
Many people in Hood River will remember Toni's mother, Wanda May, who worked at the County Extension Office for decades. Well, thank God, our mother is going strong at 91. Wanda remembers her daughter as the one who she could call and instantly feel better. "It was what she said and how she said it," Mom recalled. Toni just made you feel better after a conversation with her. She was Wanda's No. 1 child and darling. Responsible to the core, Toni could always be counted on to give wise council and to be there if needed. Wanda said, "No mother should have to outlive a child." I speak now as a father confirming the rightness of that statement! Toni's death continues to linger in Wanda's heart as a very bad dream, a brick inside weighing Wanda down in mind and soul. But she thanks God for this friend, confidant, and daughter who remained a central part of her life for 69 years.
Toni found a wonderful man in Paul Docken and married him. Here are his words about his partner in life. "WELLINGTON — Toni Saribeth May, 69, passed away on Monday, April 21, 2014, in Tubac, Ariz. Toni was born in Spokane, Wash., in 1944. Her early years were spent in Lubbock, Texas, before her family moved to Hood River, Ore., for the rest of her secondary education, until she graduated from high school in 1962. She received a scholarship and attended Oregon State University until her graduation in 1966. After a year at the University of Oregon Medical Center she received certification as a medical technologist. Toni entered the Peace Corps, trained in Hawaii, and taught medical laboratory skills for two years in Malaysia. She was subsequently employed at hospitals in Oregon, California and Maine. In the late 1970s, Toni discovered her true calling and became a professional cook and caterer. She earned a reputation for hard work, creative cookery and selflessness in restaurants and venues in Arizona, Iowa, Minnesota, Maine and Canada. Throughout her life, she was a friend and mentor to scores of family members, co-workers, and friends. She will be remembered for sharing her love and concern to all without exception, always putting the needs of others before her own. Toni is survived by her husband, Paul Docken, of Wellington; her daughter, Dulcy Docken, of San Francisco; her mother, Wanda May, of Brownwood, Texas; two brothers, Michael May in Illinois and Philip May in Texas; her sister, Ernestine Messick, of Oregon; and numerous nieces and nephews. Toni's family and friends gathered on Sunday, June 28, 2014, at the Burdin Memorial Chapel in Wellington, Maine, to celebrate her life through shared stories, thoughts and feelings about this remarkable woman who touched so many people during her lifetime."
Here are the words of a heartfelt tribute, signed by 80 people of Maine, that Toni's life touched deeply: "It's times like these when we express the closeness and strength of community, and that in turn reminds us of what's important in life: taking care of each other. This group includes friends and coworkers from every phase of Toni's 42 years in Maine. If you knew Toni, you know she never wanted the spotlight for herself. It was never about Toni. One of the most eloquent testimonials to her generous and loving spirit appeared in the local newspaper the week after Victuals closed (Victuals was Toni's Café/Food store in Dexter, Maine). No matter what the weather was outside — once we step into your little establishment there was light, the warmth of your smile, cheerful smile and the embrace of your friendly welcome. There are not enough people in this world with that much love for their fellow man, but you, Toni, are one of them. Your heart is as big as all outdoors. It did not matter if we were your steady or just occasional customers, you had the same unwavering warmth for us all and it stayed with us even after we had left. Toni, you are an example to us — love in action — and please know that we miss you. You taught us brotherly love without words; you gave to us without taking from us and enriched our lives just by being you. We thank you. Our love goes with you wherever you are or will be."
Finally, I was so proud of my sister; it didn't seem like there was anything that she couldn't do if she wanted to. We will all miss my sister Toni (May) Docken, a very lovely human being. The world is truly less without her!