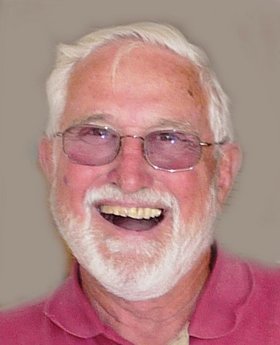 David Lewis Scott
December 19, 1931 - September 14, 2014
David Lewis Scott passed away on Sept. 14, 2014, after a nine-month battle with pancreatic cancer. Dave was always positive and upbeat about his disease, saying that he was 82 and felt he had a good life.
Dave was born on Dec. 19, 1931, in Hoquiam, Wash., to Keith and Norma Evelyn (Williams) Scott. He attended school in Hoquiam, until his family moved to Redding, Calif., between his junior and senior years of high school. He graduated from Redding High School.
He joined the Navy and served four years during the Korean War. While in the Navy, he married Janice Van Blockland, and they had their two oldest children, Gayle and John. After leaving the military, Dave attended junior college in Redding and transferred to Fresno State College, where he graduated with a degree in industrial engineering. While attending school in Fresno, Dave and Jan had their third child, Craig.
After graduation, Dave was hired by Pacific Telephone. While there, he worked as an engineering manager in many departments in various locations. During one of his early jobs in Sacramento, a fourth child, Bradley, was born. Dave retired from Pacific Bell in 1985, after 28 years. He and Jan divorced in 1981.
When he was 50, Dave started playing golf, and it became his passion. At one point, he had a 12 handicap. After moving to Trout Lake, Wash., in 1992, and having snow on the ground six months a year, his handicap started rising. When it reached 25+ when he was 79, he was so frustrated, he quit playing.
In 1993, after being together for 12 years, Dave married Terrina (Terry) Lee (Chapman). They lived a charmed life in Trout Lake until Dave's passing.
Dave is survived by his wife, Terry; his daughter, Gayle, of Fresno; his sons John (Sandy), of Citrus Heights, Craig (Myra Desarno), of Granite Bay, and Brad (Stacy), of Stafford, Va.; brother-in-law Brad Chapman (Ilja), of Key Largo, Fla.; thought-of-as daughter Chriss Erwin (Brent), of Sterling, Alaska; sister Carol Mauler, of Ariel, Wash.; as well as seven grandchildren: Damion Scott (Sahar), Cory Scott, Rachael Abude (Frank), Jessica Scott, Jillian Lama (Zack), Amanda Gray (Dan) and Natasha Scott; and five great-grandchildren: Delali, Kian, Gracelyn, Langdon and Levi; his beloved cat, Sarah; dogs Finley, Gracie and Baily; and many family and friends.
A memorial and celebration of Dave's life will be held at Fair Oaks Park, 11549 Fair Oaks Blvd., Fair Oaks, Calif., on Saturday, Oct. 18.