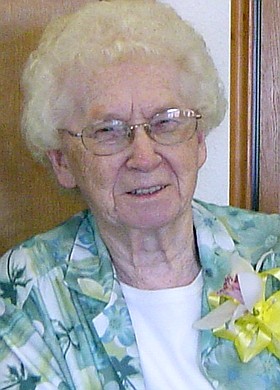 Myrtle Ladena Clark
February 9, 1919 - March 28, 2015
Myrtle Ladena Hilkey Clark, 96, passed away Saturday, March 28, 2015, at Parkhurst Place in Hood River, Ore. Funeral services will be held at Rose City Cemetery & Funeral Home, 5625 N.E. Fremont St., Portland, Ore., at 1 p.m. Monday, April 6.
Myrtle was born Feb. 9, 1919, in Medford, Ore., to Ralph and Ethel (Tolbert) Hilkey and grew up in southern Oregon in the Medford and Talent areas. She married Allen M. Clark in Reno, Nev., on Dec. 1, 1937. They moved to Portland in 1943 to work in the shipyards during World War II.
Allen built their house in Portland on N.E. Holman Street. They lived there from 1944 until June 1949 when the family moved to Cascade Locks, where they owned and operated a grocery store, gas station and cabins.
Myrtle was a homemaker. She cooked, canned, gardened, cut our hair and sewed our clothes, but she didn't like to clean the house. She did have two part-time jobs outside the home. For 27 years she worked at the Hood River Fruit Cannery on the swing shift. She also worked for both the Oregon and Washington Fish Commissions marking fish and also counting fish going over the ladders at various dams in the Gorge. Around 1955 she learned to drive. She was also active as a 4-H leader.
Myrtle and Allen took two major vacations trips. In 1976 they took the inland ferry to Haines, Alaska. From there they drove on to Fairbanks and then back home. In 1978 they flew to Hawaii and saw the Kileawa volcano, took a Pearl Harbor cruise and a bus trip up the coast. They spent 19 years wintering in Yuma, Ariz.
She is preceded in death by her husband, Allen; her father Ralph; mother, Ethel; brother Irwin and sister Corky Jones, and son-in-law Tom Power.
Myrtle is survived by her five children and their spouses: Patricia Power, of Cascade Locks, Ore., Carmen (Clayton Kramer), of Ontario, Ore., Gloria (John Washburn), of Weiser, Idaho, Benjamin Clark (Peggy), of Vancouver, Wash., and Helen Clark, of Mulino, Ore.; as well as nine grandchildren, 13 great-grandchildren, two great-great-grandchildren and numerous nieces and nephews.
In lieu of flowers donations can be made to Talking Book & Braille Services, Oregon State Library, 250 Winter St N.E., Salem, OR 97301-3950. Please visit rosecityfuneralhome.com for condolences and guest book.

Condolences are being received online.