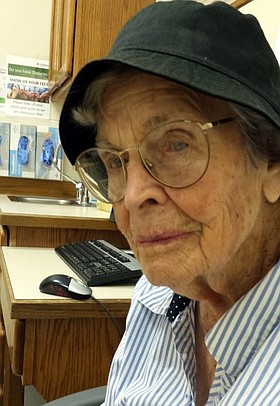 Helen M. Bohn
October 4, 1911 - April 4, 2015
Helen Bohn passed away peacefully April 4, 2015, at Brookside Manor, Hood River Ore. Helen M. Smyth Rosenberg Bohn was born Oct. 4, 1911, in Dazey, N.D. She lived on a Montana Highline homestead until the 1920s when she and her family moved to Southern California.
She met her husband, Floyd Rosenberg, at OSAC (OSU). She earned her degree in nutrition in 1933. After interning in several Portland hospitals she and Floyd married and moved to Pasadena, Calif., where she was a homemaker, mother and volunteer.
When Floyd retired from the Los Angeles County Sheriff's Office in the mid-1960s, they moved to Camp Sherman, Ore., and then to Anacortes, Wash., to be closer to their love of boating and fishing. Helen moved to Hood River, Ore., on her 95th birthday to be nearer her son.
Helen was preceded in death by her husbands, Floyd Rosenberg and Stanley Bohn, brother Ronald Smyth and granddaughter Dianne Agnew.
Helen is survived by daughter Janice (Bob) Agnew and son Don (Sandy) Rosenberg, three grandchildren, three great-grandchildren and a great-great-granddaughter.
At her request there will be no service.