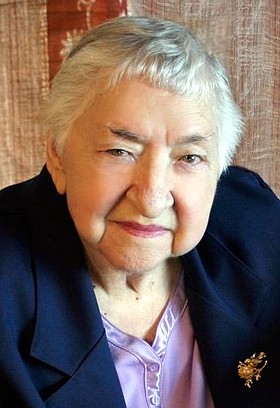 Blanche Cookston
August 25, 1923 - April 7, 2015
Blanche Cookston, 91, passed away Tuesday, April 7, 2015, at Parkhurst Place in Hood River, Ore. Blanche was born Aug. 25, 1923, in Bryson City, N.C., to Thomas and Haseltine Welch. She attended school at Swain County High School and was married to William Cromwell Cookston in 1940. They resided in Swain County, N.C., until coming to Hood River in 1950.
Blanche worked at Diamond Fruit in harvest time for 12 years. She liked sewing, cooking, craft work and reading, and was a member of Odell Baptist Church.
After her husband died, Blanche moved to Down Manor in 2000, where she lived 14 years. She was considered "the longest length of residency" there. She was active as librarian and video librarian while there. She loved to play all kinds of cards and bingo with residents on a regular weekly date until she moved to Parkhurst Place in 2014 for more care.
Blanche was preceded in death by her husband, William Cromwell Cookston; parents Thomas and Haseltine Welch; three sisters: Louise Tabor, Margaret Higdon and Dess Cogdill, all of Bryson City, N.C.; brother Edward Welch, of Knoxville, Tenn.; and daughter Janice Wallace, of Estacada, Ore.
Blanche is survived by eight of her nine children: her sons Howard and Charlotte Cookston, of Aloha, Ore., Randall and Colleen Cookston, of Prineville, Ore., and Douglas and Diana Cookston, of Hood River; daughters Vivian and Chester Browning, of Gettysburg, Pa., Jean and Jim Wells, of Hood River, Brenda and Mel Bracken, of Portland, Ore., Donna and Mike Jones, of Hornbeck, La., and Kathy and Mark Milhauser, of Canby, Ore.; 27 grandchildren and numerous great-grandchildren.
A service for Blanche is scheduled for 3 p.m. Saturday, April 11, at Anderson's Tribute Center.
Arrangements are under the direction of Anderson's Tribute Center (Funerals • Receptions • Cremations), 1401 Belmont Ave., Hood River, OR 97031; 541-386-1000. Please visit andersonstributecenter.com to leave a note of condolence for family.

Condolences are being received online.