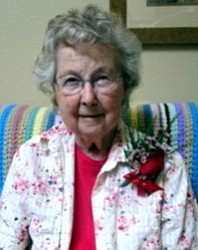 Frances Venette Duckwall
January 31, 1921 - April 9, 2015
Frances Venette Gardner Duckwall was born in White Salmon, Wash., on Jan. 31, 1921, to Mabel "Mimi" (Larsen) and Oscar Gardner. She spent her early years in Portland, Ore., Payette, Idaho, and White Salmon, graduating from Columbia Union High School in 1938.
After graduation, Venette returned to Portland to study music and attend business school. She then accepted a job in the Hood River office of the Oregon-Washington Telephone Company typing toll bills.
Venette married Richard Duckwall in August of 1941; the couple had four daughters and made their home in Hood River. Venette was the executive director of the Camp Fire Girls for Hood River County from 1957-1960, worked as a teller for U.S. Bank, then as a receptionist and bookkeeper for Dr. Henderson's medical practice, retiring in 1972.
Venette was a longtime member of the Christian and Missionary Alliance Church. Her hobbies included crocheting, sewing, painting and sketching, and computer graphics. She passed away in Hood River on April 9, 2015, at the age of. 94.
She is survived by her daughters Donna Nockleby, Mary Baskins and Richelle "Ricki" Duckwall; and many grandchildren, great-grandchildren, nieces and nephews.
She was preceded in death by her husband, Dick Duckwall, and her daughter Margaret Weathers, who passed away just a day before Venette.
A memorial service will be held Saturday, April 25, at 1 p.m. at the Christian and Missionary Alliance Church in Hood River. Those wishing to make a donation in Venette's memory may do so to the Memory Care Unit at Brookside Manor or Heart of Hospice. Please visit gardnerfh.com to send condolences to the family and for updated service information.

Condolences are being received online.