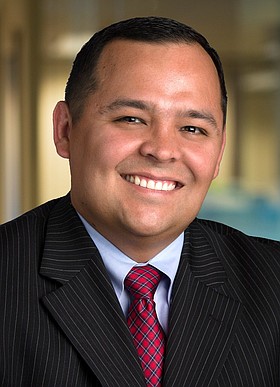 Jorge Armando Chavarria
March 23, 1982 - April 11, 2015
Raise a glass of red wine, enjoy a piece of German chocolate cake and celebrate a life well lived! For 33 years, Jorge Armando Chavarria brought joy to his family, friends and colleagues. In the past year, he made a lasting impression on OHSU's medical team and fellow patients who were also fighting for their lives. All who knew him will miss his smile, humor and encouragement.
Jorge's life began in Zihuatenejo Guerrero, Mexico, on March 23, 1982. Nicknamed "Pulo" by his family, he was fourth of five children born to Alvaro and Olga Chavarria. Jorge and his family moved to Oregon in 1984. He graduated from Hood River Valley High School in 2000, excelling in academics, football and wrestling. Jorge was the first in his family to graduate from college, which later inspired his two oldest nephews to pursue a similar path as their uncle. Jorge received numerous scholarships to Portland State University for his good grades, community service and sports. In 2005 he graduated with a degree in international business.
Throughout college, Jorge worked for Unitus Community Credit Union. In 2005, he was hired by Merrill Lynch where he served as a senior client associate working with four financial advisors. Jorge was recruited by Ferguson Wellman Capital Management in 2013 to help launch their new division, West Bearing Investments. He teamed up with his close friend and former Merrill Lynch colleague, Josh Frankel. Together they grew the business and built strong relationships with colleagues and clients.
In March of 2014, Jorge was led to believe that he had mono. Upon further testing, it was discovered that he had acute lymphoblastic leukemia. He was admitted to OHSU for treatment and from that moment on, his motto became, "Win the Day." Throughout the year, he had victories and setbacks. Neither outcome seemed to affect his steady, calm, strong approach to the disease and his visitors often benefited from his wonderful outlook – entering his hospital room subdued and introspective only to leave inspired and hopeful.
In early March of 2015, Jorge was informed that treatments weren't working and the cancer had advanced. He was told he may only have days to live and within hours, his hospital room became a revolving door of people visiting him. In his last month of life, Jorge gathered his strength to visit family in Mexico, attend the Timbers season opener and celebrate his 33rd birthday. His faith grew stronger with each passing day and on the afternoon of April 10, he was ready to be with God. He died peacefully with his family around him the morning of April 11, 2015.
Jorge will be remembered for afternoons of fishing, golf and playing FIFA video games with family and friends; cheering loudly for Real Madrid, the Timbers, Vikings, Ducks and Beavers; and enjoying anything his mother cooked, especially her pulled pork rellenos. Some of his fondest memories included a trip to Amsterdam with his nephew Adrian and "Jorge's 30th Birthday Adventure" to New York with friends.
Jorge is survived by his parents, Alvaro and Olga; siblings Juan, Yadira, Zania and Dianna; nieces and nephews Edgar, Adrian, Mizael, Danny, Jonathan, Isaac, Estevan, Sabrina, Ashley, Dariel and Andy; brother-in-laws, Carlos DaSilva, Michael Phillips, Victor Galvan and Juan Villegas; sister-in-law Nelly Chavarria; and dear friends who were with him every step of the way. The Chavarria family would like to sincerely thank all the friends, colleagues, family and OHSU professionals who supported Jorge over the past year.
A wake is scheduled for Wednesday, April 15 from 10 a.m. to 5 p.m. at Hamilton-Mylan Funeral Home, 302 W. 11th St. in Vancouver. On Friday, April 17, at 11 a.m., a Mass and funeral service will be held at Saint John's Catholic Church, located at 8701 N.E. 119th St. in Vancouver. Following Mass, a burial service will occur at the church cemetery located at Northeast 109th Street and Northeast Maitland Road. A reception be held at Saint John's Church after the burial.
If you would like to make a honor Jorge's life, please consider a charitable donation to the OHSU Knight Cancer Challenge, Somos Timbers, or simply "Win the Day" in memory of him.