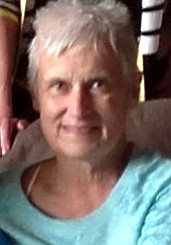 Margaret Aileen Weathers
April 17, 1947 - April 8, 2015
Margaret Aileen Duckwall Weathers was born April 17, 1947, in Hood River, Ore., to Richard and Venette (Gardner) Duckwall and spent her entire life in the valley. She was proudly employed in the family business her grandfather started in 1919, Duckwall-Pooley Fruit Co., as the corporate secretary for 46 years. She attended the University of Oregon in 1966 after graduating from Hood River High School in 1965.
In 1967 she transferred to Merrit Davis Business School in Salem, Ore., and received a degree in business. That same year she married her longtime sweetheart, Charles Scott Weathers, in Hood River, and they were together for 47 years. In 1970 she had a son, Charles Edward, who still resides in Hood River.
Margaret enjoyed family gatherings and especially yearly trips to Mexico and family fishing vacations. She also looked forward each year to a get-together with a special group of classmates who have kept in close contact over the years. Margaret was a member of the Christian and Missionary Alliance Church in Hood River.
In 2013, she was diagnosed with pancreatic cancer. She put up a good battle until April 8, 2015, when she was taken from us.
Margaret is survived by her husband, Scott, of Hood River; her son Ed of Hood River; three sisters, Donna Nockleby, of Port Townsend, Wash., Mary Baskins, of Odell, and Richelle Duckwall, of Parkdale; and several nieces and nephews.
She was preceded in death by her father, Richard Duckwall, in 2004. Her mother, Venette Duckwall, passed away the day after Margaret.
A memorial graveside service will be held at 1 p.m. on Thursday, April 16, at Idlewilde Cemetery in Hood River. The family suggests flowers or donations in Margaret's memory be made to Celilo Cancer Center, 1800 E. 19th St., The Dalles, OR 97058. To share condolences and memories with the Weathers family, please visit gardnerfh.com.

Condolences are being received online.