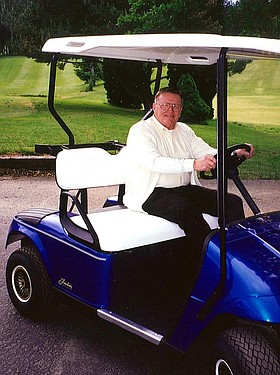 Leon William Kramer
August 25, 1934 - April 12, 2015
Hood River has lost a valued life time member of the community. Leon William Kramer was born Aug. 25, 1934, at the Hood River Memorial Hospital. He passed with his family by his side on Sunday, April 12, 2015, in the same hospital.
Leon, the son of Elmer Kramer and Emma Barton, was raised in Hood River by Elmer and his second wife, Dorothy Kramer Orr. He attended Hood River schools, graduating from Hood River High School in 1952.
After graduation, Leon started working part-time at Duckwall Fruit Company, and soon after married Anita Sackette. They subsequently divorced after being blessed with two sons: Kenneth William Kramer and Robert Joseph Kramer, both of whom Leon was very proud and loved dearly.
In November 1965, Leon was introduced to the love of his life, and lifemate of almost 49 years, Joanne Elizabeth Berkeland Tengwall. They were introduced by close friends on a blind date. Both swore they would never get married again. These words proved to be fatal. Dad received a life sentence, taking on the burden of four more children: Allan Dean Tengwall, Lynn Marie Tengwall-Potter, Mark Scott Tengwall and Wayne Martin Tengwall, who each grew to love and respect him greatly as their father.
Leon continued working at Duckwall's. His hard work was rewarded and he began working full-time for Duckwall shortly before his marriage to Joanne. He continued to prove his value to the company with his dedication and commitment to getting the job done and done right. Working his way up through the company, Leon was promoted to vice president in charge of production. After many years of pounding the pavement he was advanced to the sales department. Serving as VP of sales, which he absolutely enjoyed, he had the opportunity to travel to meet with buyers throughout the United States and the world. He retired after 48 years from the international sales department to a life of gardening, golf, and family.
An exceptional gardener, Leon took great pride in maintaining his home, lawn, and gardens. He spent hours grooming the lawns and plants, and weeding. The gardens would change with the seasons as perennials were planted, and bulbs dug up and sorted for the next season. He loved all flowers and plants. He had his favorites, but anyone who knew Leon, knew roses were by far his favorite with 18 rose bushes surrounding the house and that he painstakingly primped and manicured.
Joanne, his true love and gardening, his second love. Golf was his third love in life, making Joanne a golf widow from the moment he retired. If you couldn't find Leon at home with Joanne, or playing in the gardens, you would likely find him at the Hood River Golf Course playing the front nine with two or three golf buddies. He also enjoyed going to golf tournaments with his sons when he could, and was always open for a round with his sons and grandsons.
Leon loved all sports. Football was a close second to golf. Being a true Ducks fan he learned to support the Beavers when several of his grandchildren attended both universities.
Family was by far the most important thing to Leon. He was a simple hard working man that showed his love to his family by working hard and providing for their needs. Grandchildren brought out a softer side in Leon that those outside the family rarely saw. Retirement also gave him more time to enjoy simpler things, like a great grandson climbing up on his lap to give him a hug and say "I love you Papa."
Leon was preceded in death by his son, Robert Joseph Kramer. He leaves behind his wife of almost 49 years, five children and their spouses, 16 grandchildren and their spouses, and nine great-grandchildren. Leon/Dad/Grandpa/Great-Grandpa: We miss you so much already.
Services are planned for 4 p.m. Saturday, April 18, at Anderson's Tribute Center.
Donations are encouraged to be made in Leon's name to either Heart of Hospice or the Lions Sight and Hearing Foundation and sent care of Anderson's Tribute Center, 1401 Belmont Ave., Hood River, OR 97031; 541-386-1000. Please visit andersonstributecenter.com to leave a note of condolence for family.

Condolences are being received online.