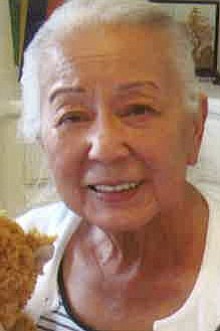 Yoshiye Sato Tsuboi
May 25, 1918 - April 8, 2015
Yoshiye Sato Tsuboi passed away on April 8, 2015, at Providence Brookside Manor in Hood River, Ore. She was born May 25, 1918, in Hood River to Shiroye and Oriyo Sato.
Yoshiye attended Dee Elementary School and graduated from Hood River High School. She married Toshio Tuso Tsuboi from Portland in 1937, and they had a son, Stephen, in 1939.
Tuso's work in the produce business took them up and down the West Coast in the years before World War II. They were interned in the Portland Assembly Center and Minidoka Relocation Center from 1942 through 1943. She was widowed in 1943, and moved with her son to New Rochelle, N.Y., where she worked as a domestic for the Hill family while she studied fashion design in New York City.
She subsequently moved to Los Angeles in 1946, and worked for Los Angeles County until she retired in 1975. She loved dancing and became a qualified ballroom dance instructor. She also loved gardening, and her plants were much envied by her neighbors.
In 2005, Yoshiye moved to Oceanside, and in 2012 to Carrington Pointe in Fresno, before moving to Providence Down Manor in Hood River, Ore., in 2014.
She was predeceased by her husband, Tuso, in 1943, and son Stephen in 1995.
She is survived by granddaughter Tami (Michael) Henricksen and great-grandsons Cooper and Hayden Henricksen; sister Setsuko Malora; brothers Victor and Ben Sato; nieces Terri Togiai, Leslie Yasui, Denise Stone, Suzie and Lynne Sato; and nephews Roland Kato and Elliott Sakamoto.
Cremation services were provided by the Neptune Society. A memorial service and interment will be held at Idlewilde Cemetery on Saturday, April 25, at 3 p.m.
Many thanks to the Brookside Manor staff and Hospice of the Gorge for their loving care. Those wishing to make a donation in honor of Yoshiye may do so to the Hospice of the Gorge.