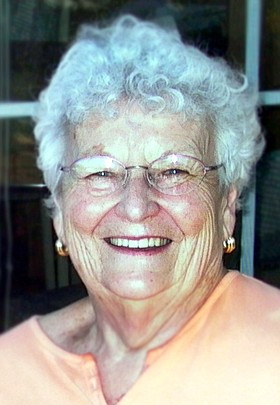 Jean S. Wells
June 13, 1930 - March 7, 2015
A longtime Hood River resident, Jean S. Wells, died on Saturday, March 7, 2015, at Providence Hood River Memorial Hospital, surrounded by family. Jean was born on June 13, 1930, in Bend, Ore., to Jack and Sarah (Hohnstein) Shumway of Powell Butte. She grew up on their sheep ranch and attended Powell Butte Grade School, but she was always a "city girl" at heart.
Jean went to high school in Portland at St. Mary's Academy and graduated from Oregon State College in 1952. She was a member of Alpha Xi Delta sorority and stayed in touch with her sorority sisters with a "round robin letter" that continues in circulation to this day.
After college she taught seventh grade at John Tuck School in Redmond, Ore., for three years. While working there, Ted Wells, whom she met in college, asked her on a date. They were married on July 10, 1955, and moved to Spokane, Wash., where he was a pilot in the U.S. Air Force. They subsequently returned to Central Oregon and added to the family they started in Spokane. Before making their home in Hood River, in 1971, they lived in Sunnyside, Wash., and Newberg, Ore.
During the years raising their children she was actively involved in all aspects of their lives as well as maintaining her own interests and activities. She helped her children with homework, academic and creative projects as well as attended and cheered at her children's sporting events. She worked hard to maintain a sane and functioning household for her husband, four children and myriad cats and dogs. She found creative expression in gardening, sewing, quilting and cooking and was involved in local organizations, including St. Mark's Guild and AAUW.
After her children left home, she continued her service to the community, volunteering her time working in the St. Mark's Episcopal Church office. She was actively involved in the St. Mark's Guild, serving as both president and treasurer several times over the years. She volunteered delivering Meals on Wheels and at the FISH Food Bank.
While working at the church, she was part of a project to create a timeline of the history of St. Mark's in Hood River. This became and ongoing interest of hers and she dedicated time and effort into researching and writing about the church's history. Because of this, along with her amazing memory, she became an invaluable resource as the church's unofficial historian. She always enjoyed learning new things. She taught herself how to use one of the early personal computers and was instrumental in getting the church office computerized. She introduced her friends and grandchildren to computers, saying, "If I can learn this in my mid-50s, anyone can."
She and her husband Ted enjoyed the adventures of these years, traveling and sailing on the Columbia River and the San Juan Islands. They lived for a few years in Alaska, which gave them many stories to tell. In her later years, she continued her work and involvement with the St. Mark's Guild as well as FISH.
She is survived by her husband, Ted Wells, of Hood River, and her brother, Ray Shumway, as well as by her daughters, Sharon Wells of San Francisco and Diane Wells of Oregon City, and sons, Stuart Wells of Palmer, Alaska and Greg Wells of Honolulu, Hawaii. She is also survived by her grandchildren, Aaron Wells, Nicholas Wells and Jasper Fowler, and great-grandson, Julius James Wells.
A memorial service is being held on Sunday, April 26, at 2 p.m. at St. Mark's Church, at 11th and Eugene streets in Hood River. In lieu of flowers, the family requests that donations be made to the St. Mark's Endowment Fund, 400 11th St., Hood River, OR 97031; 541-386-2077.
Arrangements are under the direction of Anderson's Tribute Center (Funerals • Receptions • Cremations), 1401 Belmont Ave., Hood River, OR 97031; 541-386-1000. Please visit andersonstributecenter.com to leave a note of condolence for family.

Condolences are being received online.