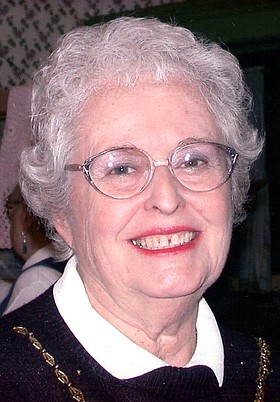 Louise A. Piper Johnson
November 12, 1926 - April 18, 2015
Louise A. Samuel Piper Johnson, of Milton-Freewater, Ore., passed away April 18, 2015, in Walla Walla, Wash. A celebration of life will be held on Saturday, April 25, at 11 a.m. at the Milton-Freewater First Christian Church, 518 S. Main St., Milton-Freewater, OR 97862.
She was born Nov. 12, 1926, in Hood River, Ore., to Jake and Irene (Fewel) Samuel. When Louise was 12 years old she joined Roy Webster, his twin daughters and her best friend Marge Oats in a swim across the Columbia River. Her father Jake rowed the boat alongside the swimmers. She was the youngest of the three who finished the swim that day. That original swim became an annual event. This fall will be the 73rd Annual Roy Webster Cross Channel Swim.
During her high school sophomore year after living in the same house in Hood River all her life (225 Montello), her father was given a job transfer to Milton-Freewater, Ore. She never forgot that day Dec. 7, 1941, since it coincided with the attack on Pearl Harbor (two devastating announcements in one day). The family lived in Milton-Freewater for 1½ years before moving back to Hood River. Sadly, when she moved back to Hood River she found that all her Japanese friends and classmates were no longer in school or in the area. They had been interned in camps while many of the older male Japanese high school classmates enlisted as U.S. soldiers.
During her senior year at Hood River High School she was crowned the Strawberry Festival Queen. The following fall she enrolled at Oregon State College where she was a member of the Delta Delta Delta Sorority.
At the end of World War II she married Dick Piper from Milton-Freewater on Aug. 17, 1949, just a year shy of her college graduation. They were married for 54 years. After Dick's death she met John Johnson in a hospice grief recovery class. They married July 10, 2003.
She is survived by her husband A.F. (John) Johnson, son Rick and wife Vickie Piper, daughter Kris and husband Tim Barry; grandchildren Johnna (Tyler) Backhaus, Heidi Piper (Josh Flores), Seth Piper (Rebecca Havers), Connor Barry and Patrick Barry (Christina); and great-grandsons Jack and Landon Barry.
Preceding her in death were Richard E. (Dick) Piper and her parents.
To leave a condolence for the family online visit munsellerhodes.com.

Condolences are being received online.